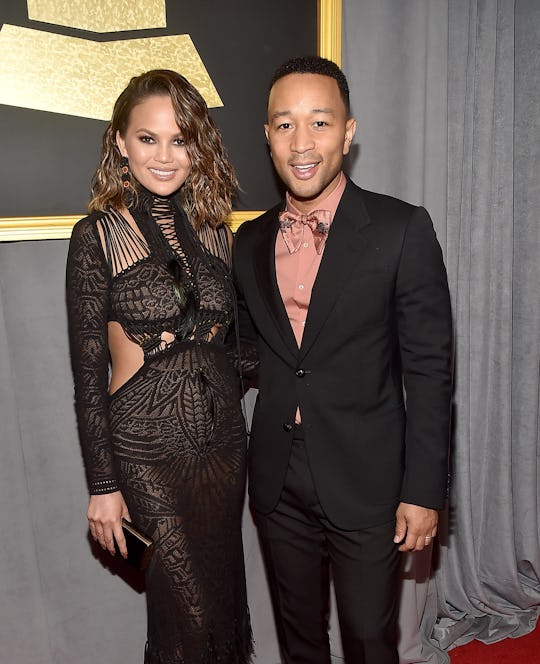 Alberto E. Rodriguez/Getty Images Entertainment/Getty Images
Chrissy Teigen's Is Freaking Out About Beyoncé
You've got to give it to Chrissy Teigen; she gets us normal folk. Sure, the model/cookbook author might be preternaturally gorgeous and married to John Legend, but she always manages to give the impression of being a regular woman with stars in her eyes. Especially when Queen Bey takes the stage. Teigen's tweet about Beyoncé at the Grammys is basically all of us.
Actually, she is so much all of us that she almost showed up to the Grammys with green-stained fingers from eating Fun Dip (as she told Ryan Seacrest on the red carpet: "I know you're supposed to use the stick, but I ate that as an appetizer"). So yes, she is all of us... but let's get real: You would have to have a heart of stone not to have been greatly affected by Beyoncé's Grammy performance. She sang "Love Drought" and "Sand Castles" from her Grammy-winning visual album Lemonade. She incorporated poetry by Warsan Shire that was originally featured in the album, and felt especially moving as she performed pregnant with twins:
Baptize me, now that reconciliation is possible. If we're gonna heal, let it be glorious. 1,000 girls raise their arms. Do you remember being born? Are you thankful for the hips that cracked? The deep velvet of your mother and her mother and her mother? There is a curse that will be broken.
So yeah, Chrissy Teigen spoke for all of us because we couldn't actually speak for ourselves for a moment:
She went on to tweet one simple, perfect word that described the intensity, the drama, the sheer force of Queen Bey's performance:
Because that's what we were, right? Dead. At the end of the performance, Teigen shared this tweet of her with husband John Legend looking totally, emotionally spent by Queen Bey's performance.
Of course, life did go on at the Grammys. There were other performances, and more emotions to be experienced, and they were all perfectly captured by Teigen, like Adele's beautiful tribute to George Michael — the one she initially stopped partway through because she didn't feel it was quite right; because she wanted to do right by his memory. The audience was there with her and for her, as was Teigen.
Here's the reality; if I can't be at the Grammys (and I'm not saying I won't be at the Grammys at some point, but for now I mean), at least Chrissy Teigen is there, representing for all of us regular people while looking very non-regular. Enjoy it for us all, Chrissy.