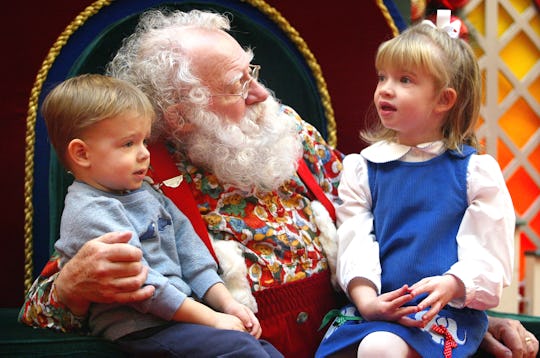 Tim Boyle/Getty Images News/Getty Images
A Girl Tied Her Christmas List To A Balloon & What Happened Next Was A Miracle
Imagine being an 8-year-old little girl who wants to make sure her Christmas list makes it to Santa. You're not asking for much, just a few small things; as I'm sure most of us remember, it's always a little bit more about the connection than the gifts. About believing in the possibility of magic, that there's someone out there who will see your words and answer your call. And sometimes that call gets answered. When a man found a letter to Santa tied to a balloon during a hike, he was charmed by the notion. But what he did next is exactly the reason why I still have faith in humankind.
Randy Heiss was out for a hike through his property in Patagonia, Arizona recently when he spotted something strange: A balloon caught in a tree. Heiss lives very near the US-Mexico border, according to The Daily Beast, and when he moved closer to take a look at the balloon he noticed there was a letter with a child's handwriting attached. He read the name "Dayami" at the top, and found a numbered list written in Spanish. As he explained in an interview with The Washington Post, "My Spanish isn't very good, but I could see it was a Christmas list."
It was indeed: A Christmas wish list written by an 8-year-old girl living across the border in Mexico.
The Christmas list had Heiss remembering doing something similar when he was a young boy himself, sending a Christmas list to Santa on a balloon... but never getting a response. He didn't want that to happen to this little girl, but unfortunately there wasn't any contact information on the letter. And so he took to social media, as he told Tuscon.com:
I said, 'Well, social media has a lot of power,' so I posted it on my Facebook account and shared it with friends. I had faith I could find her.
After going a few days without any leads, Heiss took things a step further. He figured the balloon had come from nearby Nogales, Mexico and contacted the local radio station, Radio XENY AM, to see if they could help. Miracle upon miracle, they were able to find little Dayami, and even sent Heiss a video of Dayami sending her balloon to Santa.
Heiss told The Washington Post that he arranged through Cesar Barron to meet the little girl and her family. He and his wife headed to Wal-Mart and got just about everything on Dayami's list (mostly art supplies and toys) as well as some gifts for her 4-year-old sister. They drove together to meet the girls, telling them they were Santa's helpers. As he told Tuscon.com:
It was such a wonderful thing. They were asking really cute things about Santa.
This wasn't just a special moment for those two little girls who had their wishes fulfilled. For Heiss and his wife, filling out a Christmas wish list felt a whole lot like healing. Because the couple lost their only son nine years ago and have no grandchildren. As Heiss explained to The Washington Post:
Being around children at Christmastime has been absent in our lives. It's been kind of a gaping hole in our Christmas experience.
For just a moment, all was right with the world. No border walls, no cynicism. Just kindness.
After a very frustrating first birth experience, this Deaf mother wanted a change. Will the help of two Deaf doulas give the quality communication and birth experience this mom wants and deserves? Watch Episode Four of Romper's Doula Diaries, Season Two, below, and visit Bustle Digital Group's YouTube page for more episodes.