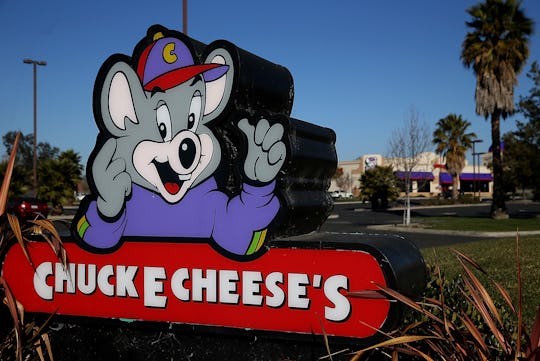 Justin Sullivan/Getty Images News/Getty Images
Chuck E. Cheese To Host Sensory-free Days
I had mixed emotions about bringing my sons to Chuck E. Cheese when they were little. On the one hand, they loved it. They would make a giant mess, eat too much pizza, play in the ball pit, and collapse in the car at the end of our visit, utterly exhausted. On the other hand... sensory overload. It was like Vegas for kids, with the bright lights and the constant noise. It was simply Too Much Fun. And I can't imagine how difficult it would have been for sensory-sensitive kids. Luckily, Chuck E. Cheese is hosting sensory-free Sundays for kids with Autism spectrum disorder (ASD), which is an enormous step in the right direction.
Chuck E. Cheese has decided to set aside the first Sunday of every month for Sensory Sensitive Sundays in 54 locations in New England and New Jersey, according to a recent press release. From 9 a.m. to 11 a.m., children with ASD as well as other special needs will be able to enjoy the facilities more comfortably. There will be reduced lighting and noise, on-site staff trained specifically to deal with the needs of sensory sensitive children, while still offering food and games for the kids to enjoy.
Chuck E. Cheese joins Target, Toys "R" Us, and Costco in providing sensory-friendly events for kids with ASD and other special needs. Select locations of all three companies have hosted "quiet" shopping events specifically for children in the autism spectrum. Which is so important for anyone living with autism who struggles with sensory overload. According to autism.org.uk:
Many people on the autism spectrum have difficulty processing everyday sensory information. Any of the senses may be over- or under-sensitive, or both, at different times. These sensory differences can affect behavior, and can have a profound effect on a person's life.
The first Sensory Sensitive Sundays have already begun at the Attleboro, Massachusetts, and Glen Burnie, Maryland, locations of Chuck E. Cheese. While a spokesperson for the Center for Autism and Related Disorders (CARD) told The Mighty that these events are test runs at this stage, to decide on their viability for the coming year, here's hoping they are a success.
Because Chuck E. Cheese is one of those places that every kid should get to experience. And if the lights are dimmed, the (vaguely unsettling) mascots are on hiatus, the staff are well-trained, and the noise level is magically below a dull roar... all the better.
So long as kids get to be kids.