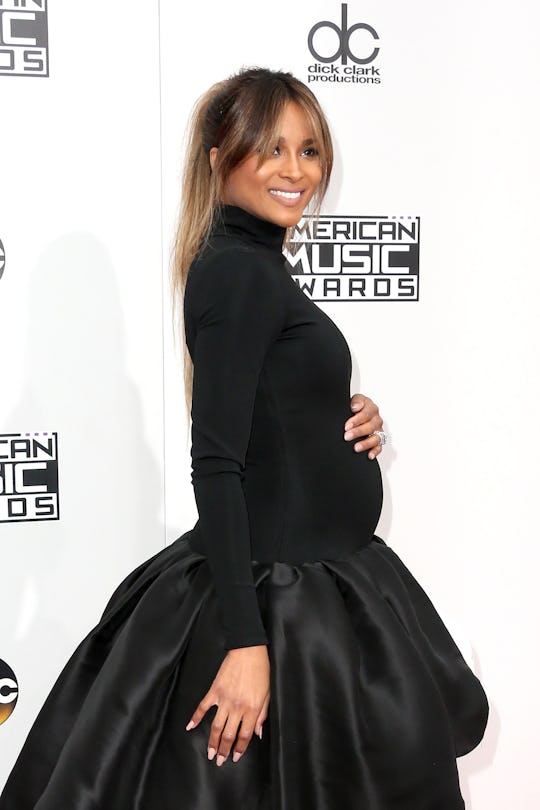 Frederick M. Brown/Getty Images Entertainment/Getty Images
Ciara's Pregnancy Instagrams Are Just So Beautiful
When I was pregnant with my son, I gave up on fashion. I didn't have the time, money, or energy to look flawless. At home, I lived in leggings and big t-shirts. At school, I wore maternity skinny jeans, a sweater, and a pair of Uggs. It was too much effort already to carry around my hefty belly, why fuss over my wardrobe? Sometimes, when I see pregnant celebrities, I lament over my lack of effort. I mean, just look at Ciara's pregnancy Instagrams. I didn't even know it was possible to look that flawless.
The 31-year-old singer, who is expecting her second child — her first with her husband, Seattle Seahawks quarterback Russell Wilson — makes pregnancy look flawless. You've probably already watched her choreographed dance to Whitney Houston's "Im Every Woman," posted to her Instagram account earlier this month. I know when I was seven months pregnant, I couldn't walk up a flight of stairs without huffing and puffing. I always looked tired and drained. Ciara jumped over a couch while sporting black leggings, a white tank top, and an open button-down shirt. She looks utterly fantastic, dressed down and energized.
I won't lie, going over Ciara's Instagram photos makes me wish I had a stylist during the nine months I carried my little one. She even makes night-time look glamorous. Her latest Instagram post, captioned "Night Times," shows the R&B singer clad in an off-white two-piece pajama set on a fluffy chair. Her hair's flipped to the side — quintessential bed head chic. My ready-for-bed attire was a ripped t-shirt and two-sizes-too-big sweatpants from Victoria Secret. Ciara: 1. Annamarya: 0.
Ciara, who is also mother to Future Zahir Wilburn, her 2-year-old son with ex-fiance Future, is expected to give birth soon. In her third trimester, the Georgia-raised singer can rock a little black dress like nobody's business. Pregnant or not, I couldn't rock a LBD even if it was still on the rack.
To be honest, I'm not that torn up over my decision to dress (super) low-key while carrying my almost 2-year-old son. Everyone experiences pregnancy differently. For me, pregnancy was grueling. It zapped my energy. My body was in constant pain. I was working and going to grad school, so I didn't find it necessary to look put-together, unless it was a special occasion, like my birthday or anniversary. But I appreciate and admire pregnant people such as Ciara who are able to put care into the way they dress.