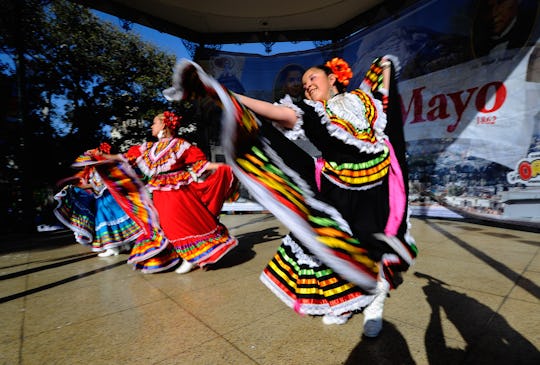 Kevork Djansezian/Getty Images News/Getty Images
Cinco De Mayo Tweets That Prove Everyone Just Needs To Stop
On Cinco de Mayo (aka May 5) you might find yourself strolling down the street and see BOGO tacos and half-off tequila shot banners outside the nearby Mexican restaurant in town and, naturally, you'll probably be tempted to partake in the festivities inside. For most Americans this is the normal way to celebrate Cinco de Mayo, and indeed, most Americans don't actually know what they are raising a glass to in the first place. Contrary to popular belief, Cinco de Mayo is not Mexican Independence Day — that happens on Sept. 16. Cinco de Mayo actually marks the Mexican army's unlikely victory in 1862 over France at the Battle of Puebla during the Franco-Mexican War and is traditionally not celebrated with copious rounds of margaritas. The midweek stereotyping fiesta that Americans have familiarized with has in turn lost almost all its meaning. These Cinco de Mayo tweets prove everyone just needs to stop and maybe do a quick Google search on the significance of today in Mexican history before indulging.
Cinco de Mayo is actually celebrated more in the United States than it is in Mexico, where it's seen as a relatively minor holiday celebrated sporadically and mostly in the southern town of Puebla, where the original battle took place.
That being said, let's take a look at some cringe-worthy tweets that effectively sum up at least some Americans' misunderstanding of Cinco de Mayo.
Some proof there should be a Cinco de Mayo lesson in elementary school
Some people who are just plain confused
Some people who were able to find the ugly irony of it all
Having a good time on Cinco de Mayo and taking a selfie with fake mustaches and sombreros while downing margaritas might seem harmless, but it can be misinterpreted as offensive and mocking to Mexicans. Sure, the way Americans tend to celebrate the day seems like a fun way to get together with friends, but it has essentially transformed a holiday meant to commemorate the Mexican victory over European invasion into fiesta-filled boozing and stereotyping.
Let's use these tweets as a lesson to do Cinco de Mayo right. Ditch the sombreros and fake accents and give your celebratory business to a Mexican-owned restaurant or establishment. Take a Mexican cooking class or brush up on your Spanish phrases. And hey, if you don't feel like indulging in Cinco de Mayo festivities at all, you can also cheers to the 55th anniversary of the first American in space, which also happened on May 5. Whatever you do though, remember: Let's keep it classy.