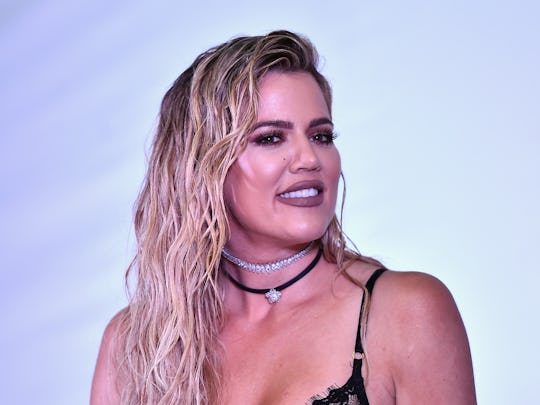 Alberto E. Rodriguez/Getty Images Entertainment/Getty Images
Clues About Khloé Kardashian's Daughter's Name, Because Fans Want To Know Everything
It looks like the moment Keeping Up With The Kardashians fans have been waiting for has *finally* arrived. Khloé Kardashian reportedly gave birth to her daughter early Thursday morning, according to TMZ. And now that Kardashian's little one might have made her grand entrance, fans have a lot of questions about the birth. But most of all, people are curious about the baby's moniker. That being said, here are all the clues about Khloé Kardashian's daughter's name.
If you've been closely monitoring Kardashian's last month of pregnancy, you probably caught wind that she supposedly went into early labor on Wednesday. Well, it looks like the rumor was true because Kardashian reportedly welcomed her daughter into the world at 4 a.m. Eastern Time on Thursday, according to TMZ. Exciting stuff, right?
As for the details of the birth, Kardashian endured labor with Kris Jenner, Kim Kardashian, Kourtney Kardashian, and best friend Malika Haqq by her side. The outlet also reported that Kardashian's boyfriend, NBA Cavaliers player Tristan Thompson, attended the birth despite the rash of cheating allegations plaguing him at the moment.
Of course, most fans are more interested in the baby's name than who was in the delivery room. So, what's the little girl's moniker? Although TMZ claims the infant doesn't have a name yet, there are plenty of clues out there to tide you over until Kardashian makes an official announcement. Check out the most compelling baby name hints below.
T Or K
One of the most important clues is what letter the baby's name will start with. So, will Kardashian follow her family's iconic K name trend? As it turns out, that's definitely a possibility. "I think a T but a K is an option as well," Kardashian penned on March 4, according to Us Weekly. "That's as far as I know." Hmm, what cute monikers start with a K or T...
Cross Tiger Lily Off Your List
If you love the movie Peter Pan, I regret to inform you that Kardashian will not be naming her daughter after the movie's iconic character, Tiger Lily. When a fan suggested the names "Tatiana, Tiger-Lilly, and Tulip," she responded, according to Twitter: "I really love Tiger Lily but I don't think anybody else does over in my house LOL." Dang.
Kardashian's Love For Elephants
As fans have probably already noticed, Kardashian has a thing for elephants. Not only were elephant-shaped flower arrangements present at Kardashian's baby shower in March, she also bought a bunch of elephant stuffed animals for her baby's nursery. And naturally, some fans suspect Kardashian will choose an elephant-inspired name, like Ella, for her little girl. "Sooo lets talk about the elephants in the room," one fan tweeted on March 19. "Is @khloekardashian naming her daughter elle or ella?" To which Kardashian responded, "Lol no babe. It's just an elephant."
Still, other fans soldiered on with this potential clue. "Ella Thompson sounds lovely," someone argued. Kardashian, however, stood firm on her desire to go with a "T" name. "Beautiful but I'm going with a babe that starts with a T," she said.
Of course, it's totally possible that Kardashian will ditch her "T" name preference given Thompson's alleged cheating. So, consider this clue still viable.
Everything Is Coming Up Roses
It's no secret that Kardashian *loves* roses. In fact, girl posts photos of the flower any chance she gets. And given Kardashian's affinity for roses, some people theorized that she'd choose the name Rose for her daughter. "The baby will be called Rosie or Rose," someone commented on Kardashian's Instagram account, according to Metro UK.
Although Kardashian debunked the Rose theory due to her T name stance, it's back as a contender now that she and Thompson might be done.
The Baby Might Not Have Thompson's Last Name
Although most people want to know the baby's first name, it's worth considering what Kardashian will do about her child's last name. Considering Kardashian is supposedly on the outs with Thompson at the moment, it's possible she might decide to gift her daughter with the Kardashian name instead of Thompson.
A source supposedly close to the famous family said about the last name issue, according to Hollywood Life:
Khloe is so incredibly hurt right now, so much so that she's getting immense pressure from her family to not even give her daughter Tristan's last name. She'll never take away his right to see her or be in her life, but the pain he's caused her really has her considering her family's suggestion of naming her child Kardashian.
Well, I think the main takeaway here is that fans will have to wait for word from Kardashian on her daughter's name. Although these clues are interesting and are all worth considering, people won't know the truth until Kardashian releases an official announcement. Stay tuned.