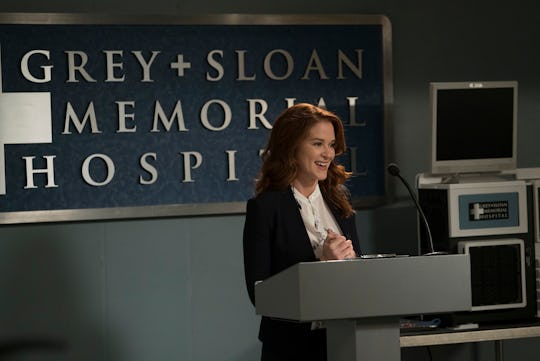 Byron Cohen/ABC
These Clues About April's Fate On 'Grey's Anatomy' Will Make You Want To Stock Up On Tissues
Saying goodbye to a beloved character on a favorite TV show is never easy. Such is the case for April Kepner on Grey's Anatomy, who will be leaving the show by the end of the season, in light of Sarah Drew's previously announced departure. But while many were hoping her exit wouldn't end in heartache, it looks like April's fate is up in the air and there are already some big clues that April dies on Grey's Anatomy. So get the tissues ready and feel free to internally argue with this season's writers for getting rid of a fan favorite.
In the promo for Thursday's episode of Grey's Anatomy, it looks like Owen finds someone on the side of the road who turns out to be April and he then rushes her to the hospital, where it looks like her condition goes from bad to worse. Although the preview doesn't come right out and explain why April is in the hospital or how bad it is, it does seem pretty obvious from Meredith's crumpled and crying face and Jackson's outburst that things aren't looking good for the surgeon.
As I mentioned, fans already know for sure that Drew is definitely leaving the show, so if April is going to die on Grey's Anatomy, now would be the time when it's actually possible. I can't imagine that the writers would make her exit so tragic, but then again, I was totally blindsided by the announcement that she's leaving at all. So yes, it's entirely possible that April dies and there are already enough clues to support this sad possibility. Such as...