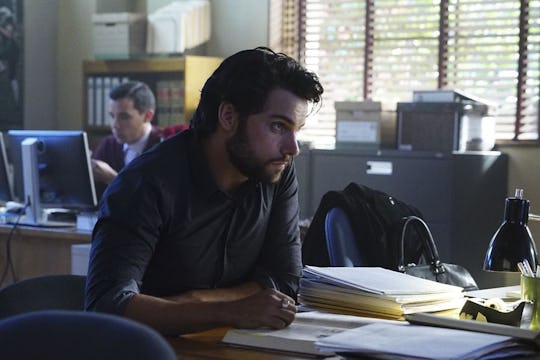 Richard Cartwright/ABC
Clues Connor Is Dead On 'How To Get Away With Murder,' So Prepare Yourselves Accordingly
Connor Walsh is the man of our dreams. He's hot, sassy, and such a flirt. Fans love him, which is why everyone is praying and hoping he's not the one under the sheet on How To Get Away With Murder. However, with each passing week it's been revealed who's not under the sheet, which has now been narrowed down to four major possibilities: Nate, Wes, Frank, and, unfortunately, Connor. It would be completely unfair if Connor is dead on How to Get Away with Murder, especially since he was crafted to be so gosh darn lovable. But there are a lot of clues that indicate Connor may be a goner. Here are just a few signs that Connor's days at Middleton University may be numbered.
He Was Last Seen With Laurel
Thanks to the time jumps, viewers have slowly been able to piece together a timetable of the night of Annalise's house fire. Fans know Connor is currently living at Michaela's apartment since he and Oliver broke up, which is why his cellphone was in Michaela's couch. Michaela believed Connor was with Asher, but when she went to find Asher he said the last time he saw Connor was when they were with Laurel. And while it's true that Laurel is alive (at least for now), her injuries are from being inside the house when it burned to the ground, so it wouldn't be a big jump to assume Connor was with her when the house went up into flames.
Annalise Called Him (And Laurel)
At first fans were all pretty certain that Annalise was honestly distraught by whoever died in the fire. However, with each passing episode it seems more and more likely that this fire was one of Annalise's own making. Why she would set her own house on fire remains a mystery, but what's even more concerning is the fact that Annalise called Connor, Laurel, and Asher that night and asked them to come over. It's unclear if Asher went and then came back to his dorm or if Connor and Laurel were the only two that ended up going to the house. Either way, it seems like Annalise may have purposefully led her students to the house as trap and Connor may have died in the crossfire.
It's Definitely a Male That's Under the Sheet
The list of people that could be under the sheet continues to shrink and now that it's been revealed that the victim is definitely a male, the list gets shorter and shorter. And while this still leaves four possible options, Connor is definitely being painted as the most likely to be dead. Nate and Annalise broke up, so there's no reason for him to have been at the house in the first place. Wes' whereabouts that night remain unclear, but thus far no one has seemed really concerned about tracking him down to be quite honest. So maybe that means he's safe? As for Frank, it's most likely that he's the person Bonnie called in the flash-forward to inform him that Laurel is pregnant. Who else would want to know that information other than maybe Wes? That only leaves Connor to be under the sheet.
Unfortunately, there are still a few weeks to go before we'll know for sure who's been marked for death. But for now, let's keep our fingers crossed that Connor makes it through this season alive.