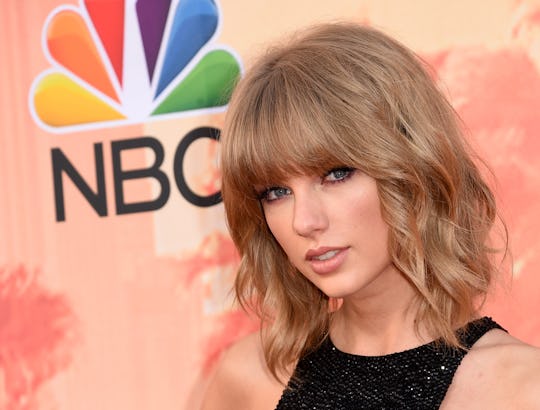 Jason Merritt/Getty Images Entertainment/Getty Images
Clues 'Look What You Made Me Do' Is About Kanye
It's been nearly three years since Taylor Swift released her last album — the hugely-successful 1989 — but earlier this week, the songstress announced that she finally had a new record on the way. Swift's sixth studio album, Reputation, is set to debut Nov. 10, and on Thursday, she released the first single. And in true Taylor Swift style, she didn't even sort of hold back: while she hasn't named the inspiration behind the song, there are a few clues "Look What You Made Me Do" is about Kanye West. And honestly? You knew this one had to be coming.
The feud between Swift and West has a long history, beginning back in 2009, when the rapper interrupted Swift's acceptance speech for Best Female Video at the MTV Video Music Awards to say that Beyoncé should have won. It looked like the two had at least publicly patched things up afterward though, and when Swift released her 2010 album, Speak Now, she addressed the incident in the track, "Innocent," according to Billboard, seemingly sending the message that she had forgiven him. But that all changed last year, when West referenced Swift on his album, Life Of Pablo, with the lines, "I feel like me and Taylor might still have sex/ Why? I made that bitch famous." When Swift then publicly objected? According to E! News, West's wife, Kim Kardashian, released footage on Snapchat of a phone conversation between the two music stars, in an attempt to prove that Swift had been aware of the track in advance.
At the time, many on social media seemed to be reveling in what appeared to be Kardashian's ruthless take-down of the pop megastar, and without an album or tour to promote, Swift went uncharacteristically quiet, emerging briefly to release a song with Zayn Malik for the Fifty Shades Darker soundtrack, and then recently publicly testifying in a sexual assault case against a man Swift said groped her during a backstage meet and greet. But if Swift's assertive and totally unapologetic courtroom testimony was any indication (and it most likely was), she's now entirely ready to make her return to public life, and she doesn't even sort of care what anyone has to say about it.
According to The Guardian, Swift once again teamed up with her 1989 producer-pal Jack Antonoff for "Look What You Made Me Do," and judging by the lyrics, Swift's musical message to West this time is loud and clear.
"I Don't Like Your Little Games/Don't Like Your Tilted Stage/The Role You Made Me Play/Of The Fool, No, I Don't Like You."
Much of the backlash Swift faced after West released "Famous" stemmed from Kardashian's insinuation that Swift had lied about not having consented to (or at least having been aware of ) West's lyrics. Swift responded by noting that West "promised to play the song for [her], but he never did," and now she's taking aim again, this time with full-on, backstabbing, snake-themed imagery on social media, as well as in her lyrics.
In fact, according to People, Swift appears to call out West from literally the first few lines of her new single, by making reference to a "tilted stage." That seems to be a clear reference to the fact that West used a floating stage to hover over the crowd during his Saint Pablo tour (and, yep, it looks pretty tilted, too). In other words, she's not exactly trying to play coy here.
"I Don't Like Your Perfect Crime/How You Laugh When You Lie/You Said The Gun Was Mine"
It's pretty safe to assume that Swift was caught off-guard when Kardashian shared the taped footage of her conversation with West with the world — after all, it did seem pretty damning. During their conversation, West and Swift seemed to be having a friendly chat, and West straight-up told her about the line, "I feel like me and Taylor might still have sex," according to E! News. Swift appeared a bit reluctant at first, but she also seemed to be trying to be as polite and positive as possible, and ultimately she told West to "go with whatever line [he thinks] is better," and that "It's obviously very tongue in cheek either way." She then added, "I really appreciate you telling me about it, that's really nice."
By the end of the clip, Swift appeared to say that she considered herself to be in on the joke, and told West, "It's doesn't matter to me. There's not like one [line] that hurts my feelings and one that doesn't." But according to CNN, Swift later hit back on social media, and wrote,
Where is the video of Kanye telling me he was going to call me 'that b**ch' in his song? It doesn't exist because it never happened. You don't get to control someone's emotional response to being called 'that b**ch' in front of the entire world.
Still, many continued to criticize Swift for appearing to backtrack on her original comments to West, with some even calling her out for being a snake (#TaylorSwiftIsASnake was actually a thing, according to CNN). But now it seems like Swift couldn't care less about being accommodating to West's feelings. And it also seems like she's wholeheartedly embraced her snake persona, too.
"I'm Sorry, But The Old Taylor Can't Come To The Phone Right Now/Why? Oh, 'Cause She's Dead."
But just in case there was any lingering doubt, Swift even made sure to include a few voicemail-style spoken lines about her new perspective. Unlike in her earlier call with West, where her attempt to be polite and give him the benefit of the doubt clearly backfired, Swift makes it clear that she is now no longer even willing to come to the phone. And if anyone is assuming she would ever consider it "really nice" that West warned her in advance that he'd be rapping about how he made her famous and might have sex with her? Well, she has a pretty clear response: "The old Taylor" is dead and gone. And it sounds like she likes it that way.
To be fair, Swift hasn't specifically said that the song is about West, and he's certainly not the only other celeb she's had beef with. But it definitely seems like "Look What You Made Me Do," is inspired by the drama with Kanye West/Kim Kardashian, and that the song is not only her way of finally getting the last word (uh, for now at least), but also her way of letting the world know that she no longer has any patience for anyone who thinks they can mess with her. And honestly, that's a battle cry that her fans are totally here for.