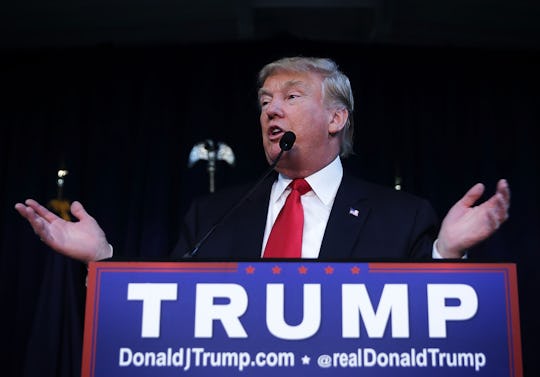 CNN Refused Trump's Demand Of $5 Million For The Next Debate, & Here's Why We Should All Rejoice
It's about time someone stood up to Donald Trump. Speaking at a breakfast keynote hosted by the Paley Center for Media, CNN President Jeff Zucker told an audience that CNN would not pay $5 million to Donald Trump — or to any other candidate — to ensure participation in the next primary debate. The leading GOP candidate had suggested at a rally in Macon, Georgia recently that he would decline to participate in the next Republican face-off unless the network made a hefty donation to a veteran group.
"How about I tell CNN, who doesn't treat me properly, I'm not gonna do the next debate, okay?" Trump asked the crowd. "I won't do the debate unless they pay me $5 million, all of which goes to Wounded Warriors or goes to vets."
"We do not pay candidates to appear on the network," Zucker said Monday, according to Variety. Though Zucker later added that the network had no plans to dial back the amount of news coverage it gives to the Trump campaign. This makes the second time Trump has floated the unprecedented (and possibly unethical) idea of being compensated for his participation in the debates, which are scheduled and sanctioned by the Republican Party. In September, Trump wrote Jeff Zucker a letter asking that all proceeds from the channel's first debate go to veteran groups.
Trump has pushed network executives into this kind of awkward position before. NBC and Univision were the first to be forced to to take any kind of stance against Trump. In June, Univision dropped the Miss America/Universe pageants and NBCUniversal announced that it would no longer work with Trump on the "Celebrity Apprentice" following his early remarks against the Latino community. The ink on Trump's candidacy documents hadn't yet dried and he had already managed to insult both Mexicans and Mexican Americans, referring to them as rapists and "bad guys" during his initial campaign announcement.
Then last month, the GOP frontrunner was part of a failed attempt by the Republican field to issue a set of demands to the networks ahead of the next debates. The candidates had hoped to take more control over the message and atmosphere at future events, asking the major networks for everything from graphics approval to a steady temperature in the debate hall.
EMBED: https://twitter.com/CNNTonight/status/661382488632090624
Donald Trump has run amok and unchecked since the first minutes of his presidential bid. We've seen Donald Trump insult just about every marginalized group in America. He's made crude and dismissive comments about women, stoked his followers' worst sentiments against racial minorities, and pushed an anti-Muslim agenda that has been (rightfully) compared to the anti-Jewish policies under the Third Reich.
In the midst of all the bombast and theater, the real estate mogul and Republican frontrunner seems to have forgotten that his goal is to eventually lead the highest political office in the United States. His campaign should be about channelling the good in Americans and governing the entire nation towards a better future. The presidential debates are supposed to help voters sift through the rhetoric and get real answers before casting their ballots. Trump isn't participating in the Republican debates as a favor to CNN, he's doing it as part of a candidate's obligation to the American public.
Putting aside all of Donald Trump's pledges to "Make America Great Again," Trump seems to have forgotten that it's these basic democratic principles that make America great already. It's about time someone reminded him.
Image: Alex Wong/Getty Images