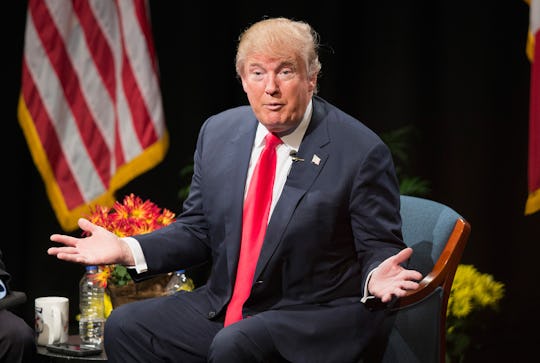 Here Are All The Terrifying Things Donald Trump Has Said About Muslims In The Last 24 Hours
In the days since the gruesome November 13 attacks in Paris by suspected terrorists, many of the Republican candidates have come forward with counterterrorism measures that sound more and more like ugly, anti-Muslim rhetoric. However, as usual, Donald Trump has managed to go above and beyond the rest of the GOP field in this regard. In fact, if you tally up all the things Trump has said about Muslim Americans in the last 24 hours, the resulting picture is pretty disgusting. In a series of interviews and speeches over the weekend, Donald Trump made a slew of statements about addressing terrorism, but all of his proposals seemed to hinge on targeting Muslim-Americans with increased scrutiny and harsh treatment.
Trump's recent statements come on the heels of a heated national debate over whether the U.S. should admit Syrian refugees. That debate came to a head after the Paris attacks, as elected officials and members of the public feared refugees would bring increased risk for terrorism on U.S. soil. Of course, each of Trump's statements generated its own flurry of press coverage and response. But when you put together all of the things Trump has said in the last day about Muslims, what appears looks shockingly like a culture of profiling and persecution for Muslims under President Trump.
1. "I Want Surveillance Of Certain Mosques."
At a rally in Birmingham on Saturday, Trump pushed for monitoring mosques for suspected terrorist activity. Speaking to a cheering audience, Trump said that there was a precedent for targeting Islamic houses of worship as a counter-terrorism measure, referencing the mosque surveillance program the NYPD adopted after 9/11. The billionaire businessman has already said that he would "strongly consider" shutting down mosques in the U.S. as part of the nation's response to the Paris attacks.
2. Called For A Registry Of Muslim-Americans
Not only would Trump monitor religious institutions, he told Yahoo News that he would be in favor of more aggressive measures, including tracking American Muslims. Later, Trump reportedly told an NBC News that he "absolutely would implement" a plan to force Muslims to submit to a national registry. Then, the GOP frontrunner later tweeted that it was the Yahoo News reporter, not him, who suggested a database for Muslims. Still, he didn't rule out the plan, adding, "we must [...] have surveillance, including a watch list, to protect America."
3. Proposed An ID Card For Americans Of Muslim Faith
Of course, there would need to be some way for people to prove to officials that they've complied with the registry mandate. In the Yahoo interview, Trump didn't rule out a possible ID card for Americans of Muslim faith, saying that "we're going to have to do all kinds of things we've never done before" to address terrorist threats. In response, one American Muslim (who happens to be a former US Marine) tweeted Trump a photo of his armed forces ID card, saying that he already carries a special badge.
4. Said He'd Bring Back Waterboarding As An Interrogation Practice
Of course, once would-be President Trump is able to violate the basic rights of millions of Americans, the question quickly becomes how he'd get them to talk about any potential terrorist ties. One way, Trump said recently, would be to bring back the practice of waterboarding as an interrogation technique. The billionaire told ABC News that the tactic, which the United Nations has declared a form of torture, is "peanuts" compared to the gruesome tactics of ISIS and other terror groups.
In an opinion piece posted on CNN.com Saturday, Dean Obeidallah put Trump's agenda for American Muslims into terms that might resonate for other groups. "Under a Trump administration, Muslims would have fewer rights than other Americans simply because of our faith, which is no different than advocating for racial profiling of blacks or Latinos," Obediallah wrote.
Further, Obediallah said closing mosques because of a few lawbreakers "would be as outrageous as closing down a mega church because two or three members firebombed an abortion clinic. Our system of justice punishes specific wrongdoers, not all who simply share the same faith or race of a criminal."
Still, the anti-Muslim rhetoric that Trump has promoted in recent weeks seems to be working on certain Republican voters. The latest Washington Post/ABC poll shows that Trump is once again leading the GOP field of presidential candidates having once again edged out former neurosurgeon Ben Carson.
Images: Scott Olson/Getty Images(3)