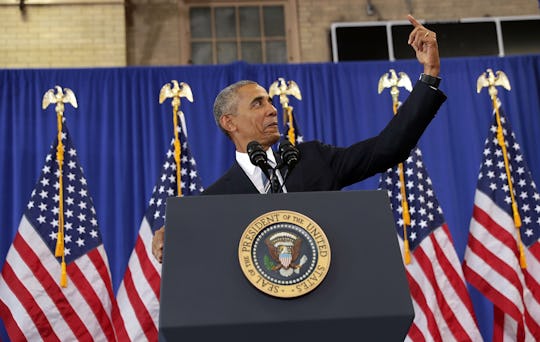 Alex Wong/Getty Images News/Getty Images
Colbert Helps Obama Prep For Being Unemployed, & His Job Prospects Don't Look Great
With only three months left in his second and final term, President Obama turned to Stephen Colbert for unemployment advice on Monday night, and their exchange might make viewers a little worried about the commander-in-chief's future opportunities. Role playing as Randy the Office Manager, Colbert noted that 55 is rather later in life to be starting on a new career path, and was troubled by the fact that Obama hadn't achieved any promotions in the last eight years. "Honestly, there wasn't a lot of room for advancement in my last job," the president explained. "The only one with a more powerful position was my wife."
When Obama explains that he's leaving his current job because it's required by the 22nd Amendment, Colbert offers the following tip: "When you say staying at your job would be unconstitutional, what employers hear is that you stole office supplies." And unfortunately, slowing climate change, opening up relations with Cuba, and preventing Iran from getting nukes doesn't impress hiring managers nearly as much as experience with Microsoft Office. As far as education goes, Obama has nearly 30 degrees, which is fine, I guess, but they're all honorary. That doesn't count for anything! This guy is basically unemployable.
The pair also discuss key issues such as how important it is for millennials to vote, pardoning Thanksgiving turkeys, and Snapchat flower crown filters, before getting down to who Obama wants as his replacement. Well, sort of. As Colbert explained, he couldn't allow the president to endorse anyone on a network television show, so instead, he quizzed him about his snacking preferences. "Would you care for an extra-fiber nutrient bar, which has traveled to more than 100 countries," the host offered, "Or this shriveled tangerine, covered in golden retriever hair, filled with bile, that I wouldn't leave alone with a woman I love?" Unsurprisingly, Obama opted for the bar.
It's sad to think that this was one of Obama's final talk show appearances as president; he was actually the first president to visit a late-night show seven years ago, but by now, the practice seems commonplace. It almost makes one hope that he won't find a new job once his term ends, because honestly, wouldn't we rather he spend his time slow-jamming the news with Jimmy Fallon, singing carpool karaoke with James Cordon, or perhaps visiting Comic-Con with Conan O'Brien? For the good of the nation, I mean. Because once this election is finally over, I'm sure we could all use a laugh.