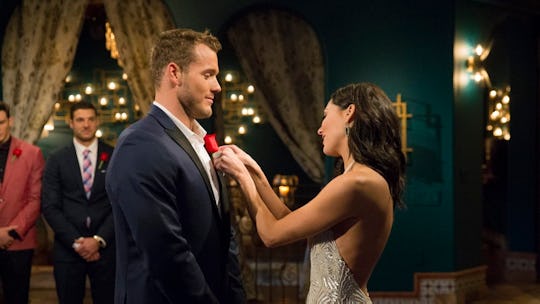 Paul Hebert/ABC
'Bachelorette' Contestant Colton Live Tweeted Becca & Arie's Breakup
You can't fault a contestant on The Bachelor or The Bachelorette for having some knowledge of the franchise ahead of time, because they have to know at least something about either show if they're putting in the time to apply and audition. And clearly, a lot of men on Becca Kufrin's season of The Bachelorette know all about her history on The Bachelor with Arie Luyendyk Jr., including Colton Underwood. But Colton live tweeted The Bachelor finale back in March, which shows that he had a little more than a casual interest in the franchise long before he was chosen to be part of it himself.
Again, I'm not judging the guy for being totally into Arie's season of The Bachelor since it was legitimately one of the most dramatic seasons I've seen to date. But his many tweets about the season, from Arie to the contestants themselves, including Tia Booth, with whom he has a brief romantic history, prove that he may have been a slight super fan last season.
That being said, does this mean that watching the women on Arie's season inspired him to try to be a contestant himself or was it just by chance that he met and spent a weekend with Tia after tweeting about her while watching her on the show? To be fair, Colton was already a celebrity in his own right, having been an NFL player and heading his own charity, but homeboy was definitely into The Bachelor way more than some of the other contestants probably are.
Honestly, I kind of love the idea of one of the contestants already being a fan before going on the show and not just watching a ton of episodes to quickly get up to speed before giving up social media and TV to go on the show. Some of the other guys on Becca's season may be in the same boat as far as loving the franchise before appearing on it, but Colton clearly as a special place in his heart for The Bachelor.
Because Colton was already a fan before going on Becca's season and meeting her, it makes you wonder if what got him to this point was his attraction to Tia when he watched season 22. It's unlikely that he organically met her in a mutual group of friends, since he lives in Colorado and she lives in Arkansas, so it's entirely possible that because of Colton's interest in The Bachelor last season he met Tia and then went on The Bachelorette hoping to further their relationship on TV. Of course that's pure speculation at this point, and clearly Tia wasn't chosen to be the next Bachelorette, but there was a time when plenty of fans saw her come close to getting that honor.
Luckily, Colton's tweets about The Bachelor also show how anti-Arie he is and to be on Becca's season, you definitely have to be unable to give him the benefit of the doubt. Colton's apparent thoughts on Arie definitely give him a few cool points that are much needed after watching him admit to Becca his past weekend-long relationship with Tia. He also gets a couple points for admitting to it right off the bat, but since he's on shaky ground with Becca at the moment, it's safe to say that his days on the show could be numbered.
So far, Colton has tweeted a bit about The Bachelorette as well, but clearly his love for the franchise grew as he watched The Bachelor last season and got to understand things a bit more. I don't know if his genuine distaste for Arie is going to outshine his history with Tia and the fact that he had a fling with her shortly before going on Becca's season, but it certainly can't hurt at this point.