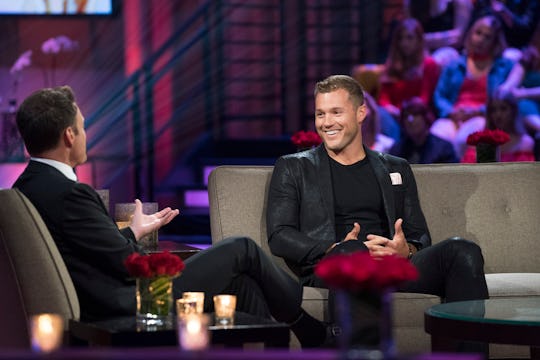 Paul Hebert/ABC
Colton Opened Up About Drama On The 'Men Tell All' Hot Seat
On The Bachelorette's "Men Tell All" special, conversations that were brought up earlier this season are hashed out once again. One such conversation was Colton's virginity. Colton opened up about his virginity on The Bachelorette's "Men Tell All" and everyone — the other men, the fans in the audience, and Bachelor Nation watching — was so supportive.
Colton's virginity was brought up before the "Men Tell All" hot seat — and unfortunately, it was in the form of a rude comment. Fellow contestant Jean Blanc said Colton was "acting like a p*ssy even though [he's] never been in one." Gross. Even Jason tweeted during the airing that it was super uncalled for. In an interview with ET that took place after the "Men Tell All" special, Colton said he was triggered by the virginity jab.
"Some comments caught me off guard and really triggered something in me and I felt like I spoke my truth tonight," Colton told ET. "[It] took a lot of self-restraint to stay seated [after Jean Blanc's comment] ... I can't even understand where that comment comes from and in the manner that it came off was so disrespectful." Well, that wasn't the end of the difficult conversation about Colton's sexual history, because Chris Harrison brought him up to the hot seat soon after.
First, Colton was subjected to a video of he and Becca's journey on the show — including the virginity reveal. Colton was honestly shocked he was sent home after hometown dates because he believed his went so well (and because he confessed his love for her). Unfortunately, though, Becca just wasn't feeling it and sent Colton home.
Then he and Chris Harrison got down to talking about Colton's whole "narrative" this whole season (besides dating Tia): his virginity. Colton basically retold what he said to Becca: he was embarrassed by it, and made up a lot of lies due to how the sports community is. Furthermore, he sometimes feels "less of a man" because he hasn't had sex — and comments like Jean Blanc's hurt. Thankfully, fans in the audience were super supportive and cheering Colton on, telling him that they love him. Even Jordan, who didn't have a great relationship with Colton throughout the season (or even earlier on the special) said that he "sees" Colton and showed his support.
Colton talked about the Jean Blanc "Men Tell All" comment in another interview done after the taping, with Variety. "It took a lot of self restraint to stay in my seat when Jean Blanc made that comment," he said, "Because it was something that was so uncalled for, so unnecessary, so disrespectful to not only me but everybody out there in the way he verbalized the female anatomy."
Once Becca got on the "Men Tell All" stage, Chris Harrison once again brought up Colton's virginity. Becca said it wasn't a big deal to her; she even dated a virgin before. Colton commended her for treating it the way she did — with respect, like it should be.
Well, this may be Colton's last moments on The Bachelorette, but it's certainly not his last moments on fans' TV screens. Colton will be on Bachelor in Paradise, where he will once again be apart of a love triangle with Tia... but with a different third party. From the looks of the promo that aired during "Men Tell All," Tia will be torn between Colton and — wait for it — Chris R. I have no doubt that Colton's virginity will be brought up again, but come on: is it that big of a deal? I think this franchise needs to give it a rest with the way it treats virgins, but I digress. I'm just glad that Colton got to say his peace, and I'm excited to see how he'll fare on Paradise.