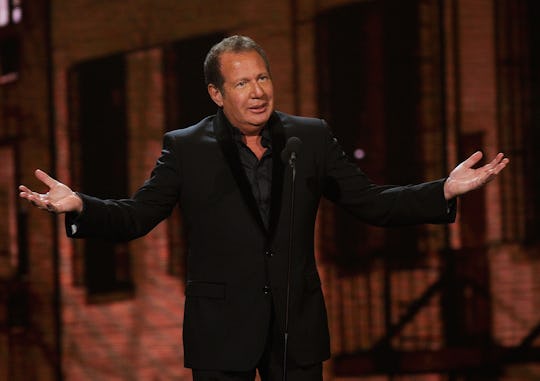 Dimitrios Kambouris/Getty Images Entertainment/Getty Images
Comedians React To Garry Shandling's Death On Social Media
The world lost another good one today. Comedian, actor and creator of The Larry Sanders Show Garry Shandling died Thursday at the age of 66 years old. The circumstances of his death are unclear at this point, but entertainment website TMZ reported that a 911 call was made at Shandling's home on Thursday. and that he passed later at a Los Angeles area hospital. As the news spread, comedians everywhere began to react to Shandling's death on social media, tweeting and posting condolences and support.
Garry Shandling made a name for himself in Hollywood as something of a visionary from the start. His dry wit, his deadpan delivery and frequently unruly hairstyles made him an unlikely star in the eighties, as well as a strong inspiration to comedians looking to follow in his footsteps. Beyond his stand-up, his guest appearances as a talk show host on The Tonight Show and various acting roles, he created two critically-acclaimed television shows — It's Garry Shandling's Show (1986-1990), and The Larry Sanders Show (1992-1998).
He created a new genre with these shows, an unreal sort of reality show that was dry and witty and true. The Larry Sanders Show, in particular, paved the way for a new type of television show we hadn't seen before. The HBO comedy paved the way for shows like The Office, Arrested Development, and Curb Your Enthusiasm to name a few. For that, and for so much more, comedians have been turning to social media to offer their condolences, their respect... and their thanks:
So many artists have cited Shandling as one of their inspirations. Filmmaker, writer, producer, and star maker Judd Apatow had this to say in a recent profile he wrote (about himself) for Esquire about working for Shandling as a writer on The Larry Sanders Show:
The many drafts written during his years-long development process are in service of a lesson learned from Garry Shandling in the writers' room at The Larry Sanders Show: "The more personal it is, the more universal it is."
Other comedians who have happily followed in Shandling's footsteps are Louis C.K., Ricky Gervais, and Jon Stewart. Gervais interviewed Shandling in 2006 for a British documentary and told him he was an inspiration. What followed was pure, unequivocal, cringe-worthy comic genius.
Most recently, Shandling met with Jerry Seinfeld for Seinfeld's hit internet series, Comedians In Cars Getting Coffee. The title of the episode? "It's Great That Garry Shandling Is Still Alive." And it really, really was great that he was still alive. Do yourselves a favor tonight. Watch this interview, especially if you've never seen any of Shandling's stand-up. And marvel at the comedian who once was.