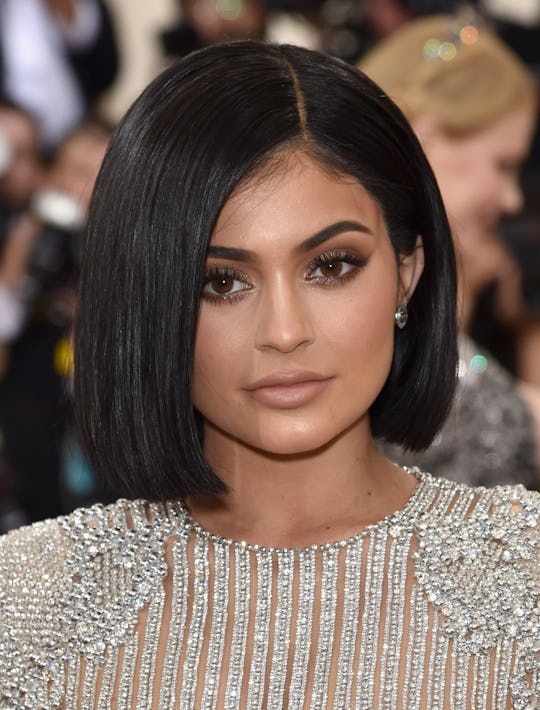 Dimitrios Kambouris/Getty Images Entertainment/Getty Images
The Internet Has A Few Conspiracy Theories About Those Kylie Jenner "Bump" Photos
I think we should take a moment to slow-clap for Kylie Jenner. In the age of social media, a platform her family has managed to expertly master over the past 10 years, she has managed to avoid any photos of her reported pregnancy bump. If she is even pregnant that is; that question remains unanswered. For the past four months, the Lip Kit entrepreneur has successfully kept the internet clean of photos of her supposed bump, despite interest in said bump hitting a manic fever pitch. So when a photo surfaced on Wednesday, conspiracy theories about Kylie Jenner's 'bump" photo started cropping up immediately. Perhaps because fans have waited for so long, they can't believe what they might be seeing.
The picture of Kylie was reportedly taken about three months ago at the Calabasas home of Will and Jada Pinkett Smith. Kylie was throwing a party for her best friend and model Jordyn Woods, and media outlet X17 claims to have gotten an official snap of her pregnancy belly. In the photo, which was shared on Sept. 25, the Life Of Kylie star appears to be resting her arm on her baby belly. The picture is super-grainy, and Kylie is wearing a baggy top. But some fans see this pic as confirmation that she is, indeed, pregnant.
While some fans might be certain that this grainy, unfocused photo confirms that Kylie is indeed pregnant, not everyone is ready to heave a sigh of relief and move on with their lives.
Some fans are not buying this paparazzi photo for a few reasons. First of all, paparazzi reportedly took it a full three months ago, and it somehow never surfaced, despite constant social media scrutiny about a possible Kylie Jenner pregnancy? And it took some disappointed fans — who were most likely devastated on Christmas Day when the final Kardashian Christmas card arrived without a pregnancy reveal from Kylie — to do some digging on the internet to find it in the first place? That does seem highly unlikely, especially considering the pic was taken by a media outlet who probably would have loved to be the one to "reveal" her baby bump. As Twitter user @kylieloves pointed out in a post sharing the picture:
These picture of kylie's "baby bump" were taken MONTHS ago! These are photoshop
In the picture, the fabled "baby bump" doesn't look like much more than a dark blur. And it's even difficult to tell if that's the youngest member of the KarJenner clan or not. So calling this photo confirmation of her pregnancy is overselling things in a major way, especially considering no one in the family has confirmed or denied the rumors.
It also seems unlikely that the preternaturally media savvy momager Kris Jenner would ever allow a public relations opportunity like a huge pregnancy reveal (or denial) slip through her fingers in such a fashion. To wait all of this time only to have the big reveal spoiled by a grainy photo? I highly doubt it. Especially when Kris Jenner seems to be having such a glorious time toying with fans about the possible pregnancy. Like back in November when she posted a pic of nine sets of Burt's Bees Baby Christmas pajamas for all of her grandchildren on Instagram. Except she only has six grandchildren. See? Toying with us.
Kris is a mastermind of social media, and has taught her daughters well. If Kylie is actually pregnant, as so many media outlets have reported, the big reveal will come at some point down the road. But this grainy photo surfacing without any fanfare after languishing on the internet for three months doesn't seem right.
This photo might be the real thing. Then again it might not. But one thing is certain — until Kylie confirms or denies her pregnancy, there simply won't be any way to know for sure.
Check out Romper's new video series, Romper's Doula Diaries:
Watch full episodes of Romper's Doula Diaries on Facebook Watch.