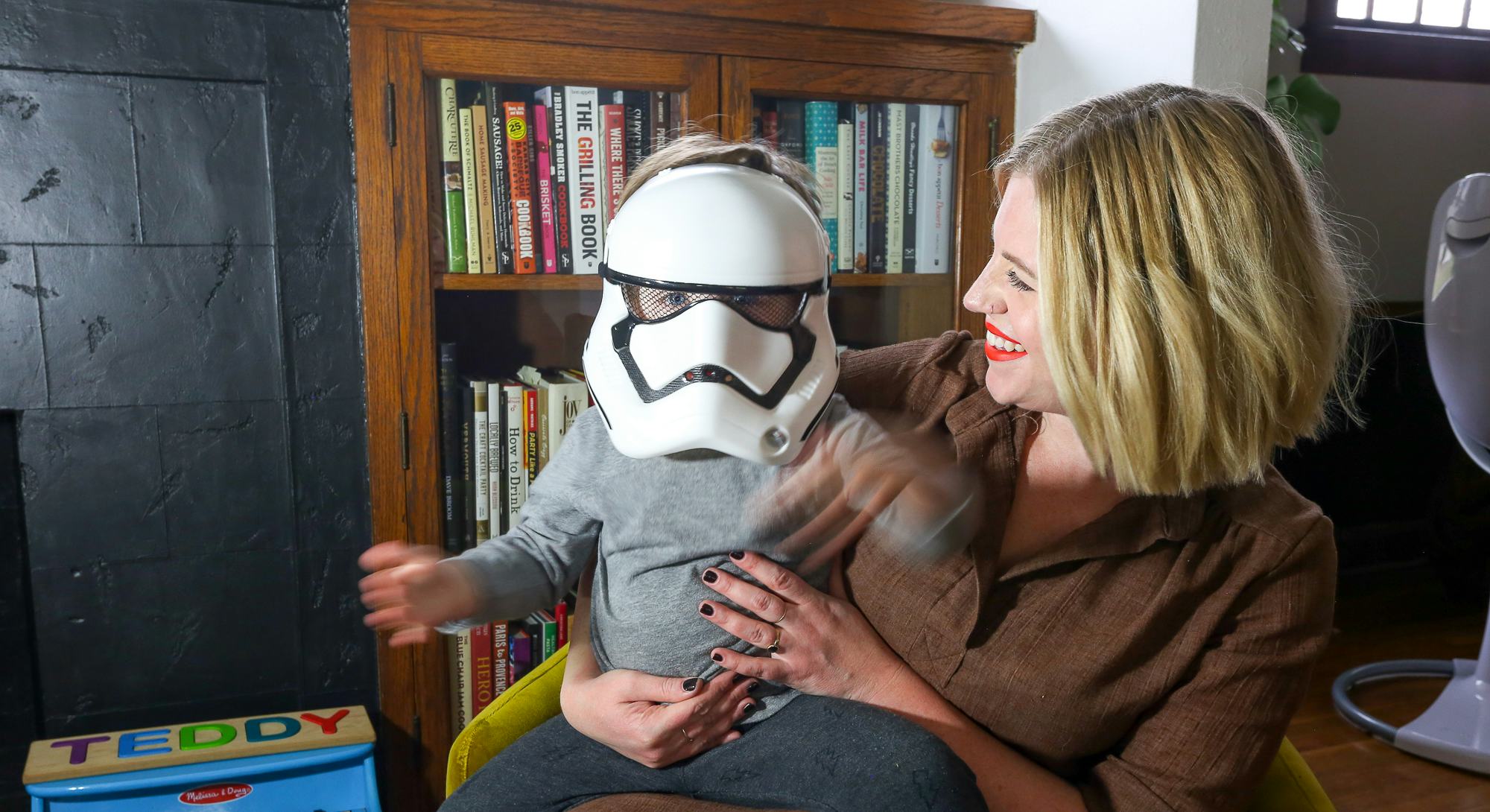 Emily Farris
Open Shelving Is The New Kitchen Fad & This Mom Has It Nailed
There's something kind of perfect about featuring Emily Farris, the lifestyle writer, prop stylist, and cocktail maven behind The Boozy Bungalow for our inaugural edition of Contain Yourself, where we take a voyeuristic look into a fellow mom's space to see how she organizes all that stuff that seems to multiply exponentially with every year. Because Emily's approach to containing the stuff in her inspirational, yet surprisingly practical Kansas City kitchen is to do the exact opposite of my m.o. (i.e., hide it all behind a closed door or inside a drawer and hope no one opens it). Emily recently renovated the kitchen of the 102-year-old bungalow she shares with her "burly" husband, toddler son, and two rowdy rescue mutts — she ripped out the cupboards and installed open shelving. And she did it all herself.
"My kitchen is definitely the most modern, minimalist room in my house," Emily tells Romper via email. But, she says, that's what makes it fit into her 'Eclectic Maximalist' aesthetic. "Pretty sure I made that up, but it's the best way to describe my home," she says. "Overall, I'm a big fan of clean lines and timeless pieces from just about any era. But I also like to have fun with design and color, so if I find something I love, I will make it work."
But how does she have time? And energy? We asked her that and much more as we gazed at her photos and briefly came to believe that we, too, could achieve a world without cupboard doors.
Why did you decide to go with open shelving?
My kitchen doesn't get very much natural light, and it's a pretty closed-off, boxy room. Bulky upper cabinets just made it feel cramped and dark, and I wanted the room to feel lighter and more open. So I ripped out the upper cabinets and, uh, painted the walls black! Ha!
Do you feel pressured to have cuter/cooler/healthier items showing now that it's so open?
In the main kitchen area? Sure! What you don't see is that just off the kitchen is a weird refrigerator room/pantry area. That's where the not-cute items are displayed on open shelving — right along with chips and Halloween candy and my old-lady magnesium. Down below is the dog food and recycling bins. I mean, I try to keep it all looking nice and organized-ish, and all of the containers are white, but that part of the kitchen doesn't end up in my photos.
I just refuse to let a kid completely cramp my style.
""I'm a plant lady. I have to have plants in every room." Photo by Emily Farris.
The black paint on the walls is Glidden, while Teddy has a chalk-paint cupboard within reach. Photos by Emily Farris
How much did you spend on brackets and shelving?
Budgets and tracking spending are not my strong points, but the shelving was so cheap! The brackets were about $2 a piece and I spray painted them that brassy-gold color. The shelves are just 12-inch common board from Home Depot we cut to length and painted white. (I sourced almost everything at the end of this post.)
How do you reconcile having such nice things in your home with having a 3-year-old?
I just refuse to let a kid completely cramp my style. Obviously, there are toys around the house, but I try to keep the more aesthetically-pleasing ones displayed, and the ugly plastic stuff is in decorative baskets. I'm almost afraid to admit this publicly, but save for the time he blanketed my living room in corn starch, my son is just not very destructive. He's never ripped a page out of a book and just kind of knows what he's not supposed to mess with. That's not to say he never gets into anything or makes messes, but I try to keep plenty of toys where he can access them, and I painted a chalkboard onto the side of the kitchen cabinets for when he's feeling creative. Plus, he always has access to his toys, as well as markers, paper, and stickers (and he knows Mama does NOT like stickers on the wood floor!) so he has plenty of his own stuff to get into. And obviously, I keep anything too precious or breakable out of reach. Of course, now that I've put this in writing, I'm sure he'll draw all over my new couch with Sharpie or something.
The look and feel of my home has always been important to me, and I'm lucky that I've been able to incorporate it into my work
In general, what's your biggest challenge when it comes to keeping all your sh*t organized?
Me! Organization is a huge challenge for me. In fact last spring, after joking for nearly two decades that I have ADD, I was diagnosed with ADHD by three separate mental health professionals. Oops! Luckily, I've always been very aesthetically motivated and (visible) clutter makes me anxious. So, for the most part, I'm able to keep the main living area fairly tidy and organized. Closets and drawers are a whole other story, though.
Open shelving is just not this big dust and grease trap that everyone is worried it will be.
How do you find the time for all of this?
The look and feel of my home has always been important to me, and I'm lucky that I've been able to incorporate it into my work and my Instagram. I do a lot of lifestyle writing and food and drink styling and photography, and I'm the entertaining columnist for a local home decor magazine. Many of the photos for my pieces are shot in my living room, dining room, or kitchen — so I kind of have to keep it looking nice! (But I probably would anyway.)
Seriously, where do you hide all the sippy cups and plastic plates?
Third drawer down to the right of the sink! Even before I renovated the kitchen, that's where Teddy's dishes lived. Obviously, I have no desire to display that stuff, but I also wanted it to be accessible to him. It was great when he was in that phase of taking everything out of all the drawers, too.
What's your advice to someone thinking about trying open shelving like this?
Do you have other displays or organized collections in your home? Do you keep them fairly tidy? If the answer is "no," then maybe just stick with closed cabinets. But open shelving is no harder to keep clean than cabinets. I still had to wipe down the inside of closed cabinets from time to time, and dusting my shelves takes about five minutes. We use the dishes often enough that they stay clean, too. Honestly, as long as you have a decent range hood (we added one during the renovation), open shelving is just not this big dust and grease trap that everyone is worried it will be.
How do you keep everything cleannnnn?
Well, I don't always keep everything clean. Sometimes dishes pile up and the trash can overflows. Plus we have two Shepherd mixes who shed all over the damn place (Dyson fan for life!). But I get really anxious if anyone comes over and my house is a mess, and we have people in and out all the time. That motivates me as much as anything! I try to make sure everything has a place, and if it doesn't, and I'm trying to speed clean, I shove it in the basement to deal with next time I'm feeling super motivated. One of the benefits of my ADHD is that sometimes I go to wipe down the stovetop and then spend two hours deep-cleaning the whole range. And I'm not ashamed to admit I pay someone to clean my house every few weeks. She does windows and ceiling fans and floors, and even washes my sheets!
Last q! This is off topic from the shelves but we can't pass up the chance to ask you for your favorite holiday cocktail...
Yes! The Old Sage, recipe here. It's a Thanksgiving cocktail and it's sooooo good.
Product Inspo