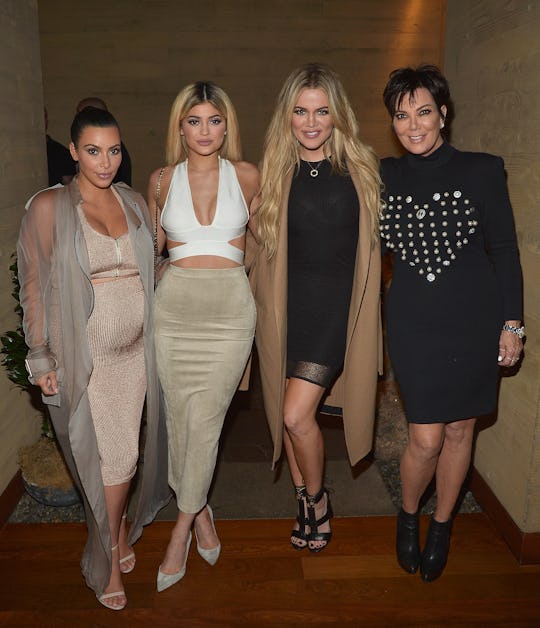 Charley Gallay/Getty Images Entertainment/Getty Images
Controversial Parenting Decisions The Kardashians Refuse To Back Down On
With so many of the Kardashian-Jenner women having babies this year, fans of the celebrity sisters have never been more excited every time Kim, Kylie, and Khloé's names appear on their social media feeds. And many fans who are also moms have experienced double the excitement, because they're also waiting for the Kardashian moms' parenting styles, tips, and tricks. While it's clear all of the KarJenner mothers are loving, grateful parents, some of their parenting methods have made headlines for being just a tad controversial.
Kourtney, who has been a mom the longest, has commented on how she parents her three children on many occasions. And Kim, who is also a mom of three, has revealed some of her parenting tricks as well. But when it comes to Kylie, who just became a mom for the first time two months ago, and Khloé, who is due any day now, fans don't know too much about their parenting styles.
It will surely be exciting to hear more about Kylie and Khloé's parenting tricks as they become more accustomed to life as moms, but for now, there are still plenty of controversial parenting tricks floating around Kardashian Mansion. (I know they don't actually all live in a mansion together, but that's how I picture it in my head, OK?)
Here are seven controversial parenting tricks Kardashians have spoken about.
1. Kourtney Believes In Attachment Parenting And Bed-Sharing
In a 2014 interview with Redbook, Kourtney disclosed that she practices attachment parenting and bed-sharing, explaining that she lets her kids sleep in her bed. She told the outlet:
Yes, and both Mason and Penelope still sleep in my bed. It's what came naturally to me; I didn't plan it. When I had Mason, I just felt really attached to him, and wanted to bring him everywhere. He ended up sleeping with me.
She added that while the kids go to sleep in their own rooms, she quickly finds them crawling into her bed. "They go to sleep in their rooms, but end up in my bed, sometimes within minutes," she told the magazine.
2. She Chose Extended Breastfeeding For Mason
Kourtney also told Redbook that she breastfed Mason for 14 months. That's only a little longer than thee current American Academy of Pediatrics recommendation, which is one year, but that hasn't stopped people (including Koko's family) from trying to get her to stop sooner. She told E! News in 2011:
I mean, everyone would say, it's time, it's time, come on ... I started to stop a little bit, weaning and all that, and I'm like, Why am I doing this? If I'm happy and he's happy. So I said, Let me see when he asks me for it—which is like, he doesn't talk, just pulling at my shirt a little. So I said, Let me see, and he only asked once a night. So I did it and he just stopped. I'm like, I just want to do what he wants.
3. Kim Let Saint Ride In A Front-Facing Car Seat Before Turning 2
According to California's official website, children are required to ride in rear-facing car seats until they hit either 2 years of age, 40 pounds, or 40 inches. So when Kim posted a photo of Saint riding in a front-facing car seat at 20 months old, many criticized her for not waiting until he turned 2. She later cleared up that he met the height and weight requirements to transition to the car seat.
4. Kourtney Tries To Keep Mealtime Plastic-Free
Certain chemicals in plastic products, namely, bisphenol A (BPA) have been linked to causing cancer in people, as explained by BreastCancer.org. To keep her kids as far away from plastic as possible, Kourtney uses all stainless steel or glass plates, cups, straws, and more when it comes to feeding her three children, as reported by Style Caster. However, many parents feel totally comfortable serving their children food on plastic, and while some may think it's controversial that Kourtney steers clear of plastic, it's what works for her family (and planet earth!).
5. North And Saint's Sibling Rivalry Has Forced Kim To Get Creative
"North just beats him up all day long, and he doesn't cry. She's just awful," Kim told Ellen DeGeneres last year about her two eldest kids' relationship, according to the Daily Mail. "She's so jealous. I thought it was a phase, and it's not going away."
To curb North's jealousy when Kim was still breastfeeding Saint, Kim had to get seriously creative. "When I was breastfeeding him, she was so jealous I had to get a little milk box and put it in the other bra with a straw so she could drink and he could drink," Kim told DeGeneres. That's dedication.
6. Kourtney Has Pretty Strict Screen Time Rules
In a 2017 blog post on her website, Kourtney detailed the technology rules that she set for her kids. As reported by Style Caster, Kourtney explained that she used to let her kids play with iPads at restaurants and during meal time — but she and Scott have since revoked the privileges, because she found the devices too distracting. And when it comes to screen time in general, the Disick children each get a half hour on weekdays and an hour on weekends.
7. Kylie Has Long Fingernails
When Stormi was one month old, Kylie shared an Instagram photo of herself holding her newborn daughter. In the photo, Kylie's long, painted nails are clearly visible (as they were in Kylie's first-ever picture of Stormi, when the baby was just a few days old). People took to Twitter to criticize Kylie's long nails, suggesting that Kylie was able to have long nails because she had nannies to do tasks like changing diapers. Shaming a mother for choices like having long nails is never OK, and becoming a mom does not mean you have to sacrifice your personal style in order to care for your baby.
So while most of the KarJenner sisters' parenting styles have caused controversy at one point or another, it's clear that they are all loving parents to their children. Here's hoping soon-to-be-mom Khloé doesn't let anything stop her from raising her child however she thinks is best.
Check out Romper's new video series, Bearing The Motherload, where disagreeing parents from different sides of an issue sit down with a mediator and talk about how to support (and not judge) each other's parenting perspectives. New episodes air Mondays on Facebook.