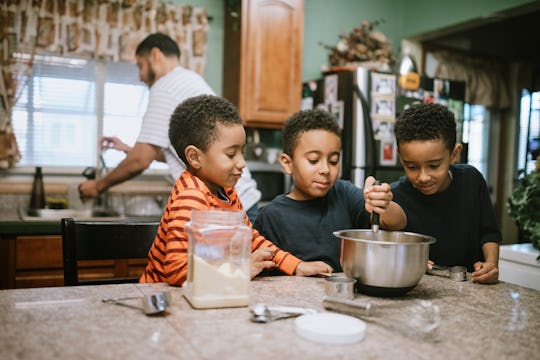 RyanJLane/E+/Getty Images
These 10 Cooking Subscription Boxes For Kids Will Make Mealtime Way More Fun
Even if you crave being in the kitchen, it's easy to get burnt out from cooking for your kids every single day. And it's even more challenging when you've been stuck at the stove only to have your child pick at their pasta. Maybe it's time your little ones start cooking their own dang meals (sort of). Get ready to recruit your mini sous chef, because these 10 cooking subscription boxes for kids will boost your bonding time — and possibly get them to actually eat.
"Subscription meal kits are a great way to bring kids into the kitchen," nutritionist Kara Hoerr, RDN, tells Romper in an email. "Meal kits often provide a balanced and complete meal and may include cuisines or foods that are new to you. This increases the variety of foods and flavors your kids are exposed to that they wouldn't normally see." And even if your kiddo isn't crazy about carrots, receiving them in a surprise box just might make them want to nibble on a new-to-them veggie.
And apart from the added bonding that occurs when you're cooking together, your kid can learn so much from a cooking subscription box. "Kid-friendly cooking subscription boxes each have their own unique spin on education, but all of these subscription services incorporate educational opportunities such as learning about new cultures and food traditions, practicing mindfulness, experimenting with science, or practicing math skills with measuring," adds dietitian Erin Palinkski-Wade, RD, in an email to Romper. Not only does your child get to sample nutritious foods, they get real-life experience working with super useful everyday concepts in a wide range of subjects.
So try out these cooking subscription boxes that will help make mealtime more meaningful.
We only include products that have been independently selected by Romper's editorial team. However, we may receive a portion of sales if you purchase a product through a link in this article.