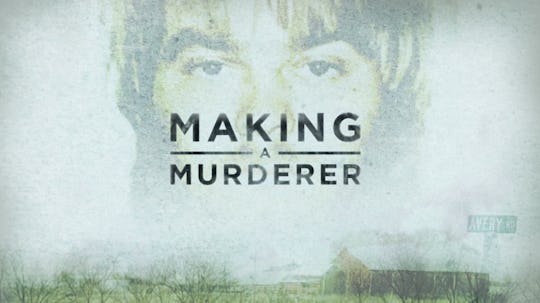 Netflix/YouTube
Could Anonymous Actually Exonerate Steven Avery? 'Making A Murderer' May Have Complicated Things
A Netflix show may have just sparked an informal, international criminal investigation. On Dec. 28, a Twitter account associated with the hacktivist group Anonym0us claimed to have evidence exonerating Steven Avery, the man profiled on the new series, Making a Murderer. However, later reports showed that Anonymous may not have had the documents they claimed would have proven Avery innocent — and now it seems that the Twitter account may never have been speaking for Anonymous at all.
Making a Murderer follows Steven Avery, who was sentenced to life in prison for the murder of Teresa Halbach in 2005. Prior to his conviction, Avery had spent 20 years behind bars for sexual assault before DNA tests later proved him innocent of the crime. After suing for wrongful conviction, he ended up in a jumpsuit again when evidence emerged connecting him to Halbach.
The case was complicated in part because of its history and because of the way Avery's story was told. But Making a Murderer's compelling premise yielded over 100,000 petition signatures on Avery's behalf nonetheless, with both a Change.org petition and a We the People petition pressing the White House for an official pardon.
But the show may not be thorough in its presentation of the facts. In an interview with People, former Wisconsin state prosecutor Ken Kratz said he believed the series prized information that supported Avery's innocence while pushing aside both physical and anecdotal evidence that worked against Avery in real life. "You don't want to muddy up a perfectly good conspiracy movie with what actually happened," Kratz said sarcastically.
Initially, the Anonymous account claimed to be able to clear up some of those conflicting facts. On Dec. 28, @OpAveryDassey tweeted, "This will be the Official #Anonymous Thread Releasing Documents Concerning #ManitowocCounty Corruption Emails and Collusion." Shortly after claiming that members of the police had hidden important evidence and that Anonymous was planning to release critical information obtained from emails and phone calls, the account seemed to go silent. By Tuesday morning, the account had been deleted.
According to The Next Web, this may be because the person or persons associated with the account never had information to share. TNW went on to write that while they believed the @OPAVERYDASSEY account to be associated with Anonymous member @0hour1, their information was never confirmed (@0hour1 denied affiliation but tweets regularly about Making a Murderer on their own account).
If Anonymous is not formally involved in researching the case, then that leaves audience members to draw their own conclusions, which in and of itself might be dangerous. According to Daniel D'Addario of TIME, unwarranted conclusions may be drawn when a case is incompletely communicated to the public for the sake of drama:
Ten hours is long (in the case of the slightly repetitive Making a Murderer, it's too long), but it's less than two days' worth of business for a jury trial. Whatever they left out, they left out something.
Whether Anonymous will release any documents related to Avery's case remains to be seen. In the meantime, it may be best to approach the Netflix series with caution.
Images: Netflix/YouTube