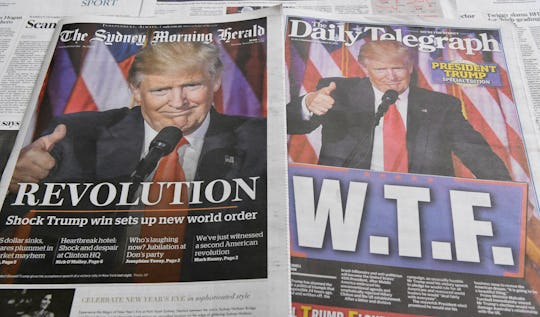 WILLIAM WEST/AFP/Getty Images
Could Donald Trump Repeal Roe v. Wade? The President-Elect Is Going To Try
When Donald Trump is sworn in as the next president of the United States in January, listen for the ceremonial rendition of "Hail to the Chief" on Inauguration Day. Normally a solemn nod to the sanctity of the office, the presidential anthem next year will serve as the death knell for women's bodily autonomy and access to quality, affordable reproductive healthcare. That's likely the case, at least, because Trump is now positioned to repeal Roe v. Wade, the landmark 1973 Supreme Court decision that ensures a woman's right to choose whether or not to end her pregnancy — and he's already pledged to engage in the political maneuverings necessary to abolish this fundamental right.
When conservative pro-lifers greeted Trump's inevitable ascension to the top of the GOP's presidential ticket with skepticism about his dedication to the anti-abortion cause, a key pillar of the Republican Party's platform, he sought to boost his street cred. And that he did, promising to appoint Supreme Court justices who would uphold an anti-choice agenda. He had already shamelessly announced his intention to deprive Planned Parenthood of federal funds, despite acknowledging the vital health services that the nonprofit provides to "millions and millions of women" across the country.
And the gut-wrenching news for defenders and advocates of a woman's right to choose what to do with her own body is that the political climate is ripe for Trump to swiftly begin working on that when he assumes the role of commander-in-chief.
Republican majorities dominate the House and the Senate, and the newly minted president-elect will fill the empty seat on the Supreme Court left by Justice Antonin Scalia's death earlier this year as one of his first acts of office. And because three of the Court's current sitting justices are 78 or older (the iconic liberal justice and celebrated champion of women's rights Ruth Bader Ginsburg is now 83) there's a very real chance that Trump will have the opportunity to totally reshape the Court during his tenure in the White House.
If he nominates one conservative justice to take the place of just one of these three left-leaning justices, the current makeup of the court means that he could create a five-to-four coalition that would vote to repeal Roe v. Wade and remand the urgently important issue of abortion to individual states to decide, as Drexel University law professor David S. Cohen wrote for ThinkProgress.
There's even a specific issue in the fight to outlaw safe and legal abortions that could land the question of access to abortion in front of a Court that could very well be unreceptive to arguments in favor of women having the right to make healthcare decisions for themselves. According to Cosmopolitan, Trump is likely to sign a bill called the "Pain Capable Unborn Child Protection Act," which would cap the timeframe for abortions at just 22 weeks' gestation — and abortion providers would have to go to court to challenge this arbitrary cutoff. From there, the contentious issue could end up in front of the Supreme Court, and, during a Trump administration and beyond, that could very well mean the end of Roe.
The reality that Trump and his running mate, anti-Planned Parenthood crusader Mike Pence, could turn back the clock on 40 years' worth of progress is demoralizing for those who have fought for safe and legal abortions — and access to equitable women's healthcare in general. Trump plans to attempt to repeal President Obama's Affordable Care Act as well, a move that would obliterate the access to cost-free birth control that it ensured, as well as the preventative care that it delivered to millions of women who would have otherwise gone without.
Trump's victory in this election was shocking for many. As his ability and apparent motivation to repeal Roe v. Wade and chip away at other advances women have made shows, the blows will simply keep coming.