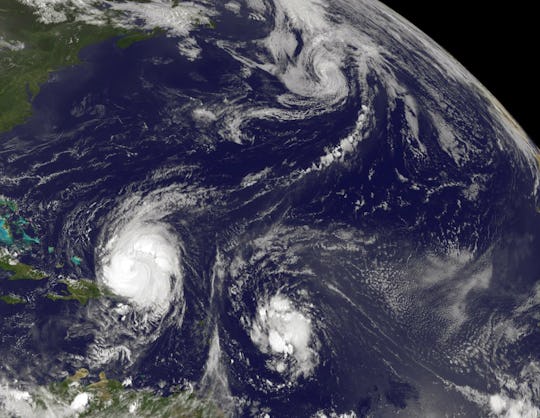 NASA/Getty Images News/Getty Images
Could Hurricane Jose Make Its Way To New York?
First, Hurricane Harvey devastated Houston and surrounding areas with catastrophic flooding. And now, Hurricane Irma has pummeled through Florida with damaging winds and rain, and is continuing northward as a tropical storm. Next on the horizon is yet another major storm following a very similar, yet uncertain path, leaving weather forecasters considering the possibility about whether Hurricane Jose could hit New York in the coming days.
The short answer? It's still too soon to know for sure. Early this week, Hurricane Jose will reportedly be following a loop south of Bermuda. But after that, its course isn't entirely predictable. According to Patch.com, "strong riptides" are predicted to impact coastal regions of New York, which will "mix with riptides and rain that forecasters expect to be caused by the remnants of Irma," as the local news outlet reported.
According to a report from The Weather Channel on Monday, "The future path of Jose after it makes its loop in the western Atlantic remains uncertain." But, as with any other possibly catastrophic and dangerous storm, meteorologists are on top of any and all movements and they "will continue to monitor it for any potential" impact it may have on the United States next week, according to the report.
Bringing with it 150 mph winds, Jose is reportedly pegged as a Category 2 hurricane by the National Hurricane Center. However, the storm seems to be losing steam as it makes the loop. "There remains uncertainty on what affect the leftover circulation of Irma will have on Hurricane Jose, and if any impact to the East Coast is possible," meteorologist Brett Rathbun said, according to AccuWeather.
Models of Jose offer a number of possible paths for next week, ranging "all the way from South Carolina to Newfoundland, or even out to sea" and with 25 percent of these projections showing landfall in the United States, according to USA Today.
As for Hurricane Irma, it ravaged Florida with 130 mph winds on Sunday has since been downgraded to a tropical storm. It was heading toward Atlanta by Monday, and is expected to eventually cause rain in New York City by the middle of the week, according to AccuWeather.
"There will still be enough moisture for scattered showers, but it will in no way be a washout or bring a flash flood threat to the area," Rathbun said, according to AccuWeather.
In the coming days, New Yorkers appear to be far away from Jose's path, although its future trajectory is still up in the air. So, in the meantime, be sure to take an umbrella with you and keep up with local news for any developments on the hurricane's latest movements.
Check out Romper's new video series, Romper's Doula Diaries: