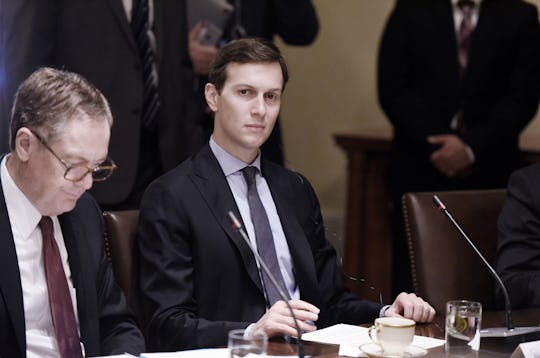 Pool/Getty Images News/Getty Images
Could Jared Kushner Go To Jail For Collusion With Russia?
The ongoing investigation into possible collusion between Russia and President Donald Trump's election campaign team has unearthed some seemingly-concerning connections, and now, it appears that Jared Kushner, the president's son-in-law and currently a White House senior advisor, has confirmed that he, too, took meetings with Russian officials during the campaign and subsequent transition periods, according to CNN. Could Jared Kushner go to jail? In a statement released Monday, Kushner defended himself against any implications of wrongdoing, and said he "did not collude, nor know of anyone else in the campaign who colluded, with any foreign government," and that he "had no improper contacts." (Kushner's rep did not immediately return Romper's request for comment.)
In the 11-page statement, Kushner confirmed that he had contact with Russian officials on four occasions — two of which were with Sergey Kislyak, a Russian ambassador. According to The Washington Post, Kushner said their first meeting was a brief introduction in April 2016, though in Dec. 2016, he said joined Kislyak for a meeting at Trump Tower in New York, alongside former national security adviser Lieutenant General Michael Flynn.
That same month, Kushner said he also met with Russian banker Sergey Gorkov at Kislyak's request, with Kushner explaining that Kislyak described Gorkov as someone "who could give insight into how Putin was viewing the new administration and best ways to work together," according to The Washington Post. Then, of course, there was the June 2016 meeting set up by Kushner's brother-in-law, Donald Trump Jr., with Russian lawyer Natalia Veselnitskaya who'd claimed she had incriminating information on former Democratic presidential candidate Hillary Clinton — though Kushner claimed that he arrived late and stayed for only "10 or so minutes" after determining that the meeting was "a waste of [their] time."
Although Kushner confirmed the two in-person meetings with Kislyak, one thing he said he didn't do was speak to him by phone: according to CNN, Kushner denied a claim made by Reuters in May, which said he'd also had two phone calls with the Russian ambassador. In addition to not being able to recall having spoken to him, Kushner said in his statement that a "comprehensive review of [his] land line and cell phone records from the time does not reveal those calls."
So far, Kushner seems to have taken clear steps to deny that he had any involvement with (or knowledge of) any Russian collusion, and that he hasn't done anything wrong. But his connection with Russian officials isn't the only aspect that has critics crying foul: there's also the fact that, when applying for White House security clearance, Kushner failed to disclose the meetings on his SF-86 form. According to The Hill, Kushner argued in his statement that the error was unintentional, and that a "miscommunication" with his assistant led to the submission of an incomplete form.
Kushner has since updated the SF-86 form twice, according to CNN, but many have questioned Kushner's claim that the omission was unintentional. According to Think Progress, California Rep. Ted Lieu tweeted in May that false statements on an SF-86 was a crime, and that the fact that Kushner's meetings with Russian officials weren't disclosed means that he should be prosecuted. Other Democrats, including New York Rep. Jerry Nadler, have argued that, at the very least, Kushner's security clearance should be revoked until the investigation has concluded.
In addition to his publicly-released statement, Kushner appeared before the Senate Intelligence Committee Monday morning to begin two days of behind-closed-doors questioning regarding Russian election interference, as well as about contact between Russian officials and member's of Trump's campaign, according to TIME. Trump Jr. and former Trump campaign manager Paul Manafort are also expected to testify before the Senate, though, as with Kushner, the hearings will likely remain private.
While the outcome of Kushner's testimony is still to be seen, it seems pretty evident so far that he will continue to defend himself against any suggestion of wrongdoing. Ultimately though, it appears that it will be up to the committee to decide whether or not he broke the law — and if so, it's possible that he could be prosecuted.