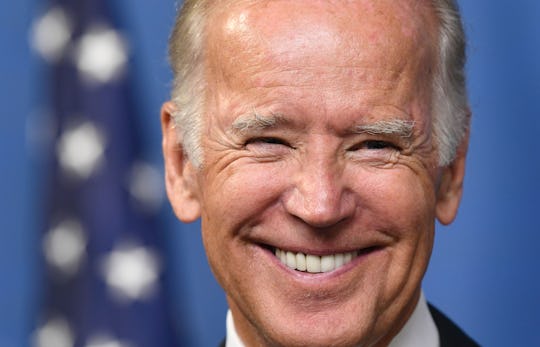 JONATHAN NACKSTRAND/AFP/Getty Images
Could Joe Biden's Age Prevent Him From Running In 2020? He Won't Rule It Out
Vice President Joe Biden casually announced his bid for president in 2020 on Monday, telling reporters that he planned to run, but that he's "not committed to anything," according to CNBC. He also added, "What the hell, man," a very Uncle Joe thing to say. Given that he'll be 77 years old come Election Day 2020, some are wondering whether Biden's age could prevent him from running for president. Although the Constitution sets a minimum age limit of 35 years old for president, there is no maximum age. At age 70, President-elect Donald Trump will be the oldest U.S. president to take office. President Ronald Reagan was the second-oldest, taking office at age 69 and departing just weeks ahead of his 78th birthday.
Biden has sought the Democratic nomination for president twice before. He first ran in 1988, but withdrew amid accusations that some of his speeches included plagiarized passages, according to TIME. He tried again in 2008, ultimately losing out to President Barack Obama, who eventually took him on as his running mate, and together they won the following two elections. Although Biden had strong support for a 2016 bid, he announced in October 2015 that he would not seek the nomination, explaining that he was still mourning the death of his son, Beau, in May of that year, and "the time necessary to mount a winning campaign for the nomination" had passed, according to The New York Times. He later hit the campaign trail in support of former Secretary of State Hillary Clinton.
Biden is the first Democrat to informally announce his candidacy for 2020. Clinton has yet to announce whether she'll run again, but given what she went through during her last campaign, few could fault her for calling it quits. The Washington Post has speculated that New Jersey Sen. Cory Booker or New York Sen. Kirsten Gillibrand might give it a go, but it's still much too early to expect serious announcements. Even Biden's wasn't really an announcement, but an off-the-cuff comment to a handful of reporters who repeatedly asked him if he was kidding, according to the Post.
According to Real Clear Politics, Biden currently has a 49 percent favorability rating, just behind Obama's 52.8 percent rating. Meanwhile, Clinton's approval rating is currently 41.8 percent. And he certainly has better national name recognition than Booker or Gillibrand. But an October Morning Consult poll that asked voters to name their pick for a Democratic nominee in 2020 should Clinton lose the election had Massachusetts Sen. Elizabeth Warren nabbing the top spot at 16 percent (54 percent had no opinion). Of course, back in October, Clinton's win seemed like a sure bet, so those figures may have changed. Looks like it's time for a new poll.