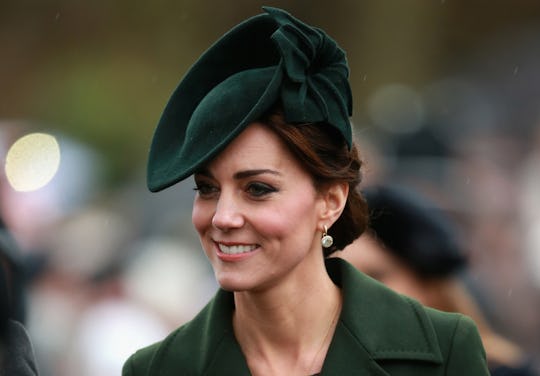 Chris Jackson/Getty Images Entertainment/Getty Images
Here's How The New Royal Baby Fits Into The Line Of Succession
The Royal Family announced on Monday that Kate Middleton is pregnant again, which is very exciting news. People all over the world are already speculating about when she's due, whether it will be a boy or a girl, and most importantly, whether or not Kate Middleton's third child can be a king or queen eventually. The announcement does shake things up when it comes to the royal succession line up. Princess Kate's third child will now be fifth in line, so theoretically they could take over the throne one day. But there are a lot of people to get through.
Here's how it stands now:When Queen Elizabeth dies, Prince Charles, who is 68 years old, will take the throne. Next in line, as Charles and Diana's eldest son, is Prince William. When Prince William passes away, which please let's never even think about this, his oldest, 4-year-old George, will be the heir. Next in line is his baby sister, Charlotte, and then this third child. Prince Harry is now the sixth person in line to be king.
But Charlotte and this new baby will only be king or queen if George doesn't have any children of his own. If he does, those children will go ahead of Charlotte and the third child. Get it? It's the same reason that Prince Harry is so far down the list, after William's kids.
So a lot would have to go down for Royal Baby Number Three to be king or queen. Interestingly, back in the day, a male heir would take precedent over a woman, so Charlotte wouldn't have even been on the list. But thanks to the The Succession to the Crown Act of 2013, female heirs are treated equally, with just one catch — they had to be born after October 28, 2011.
Princess Anne, for example, is the queen's second child and ten years older than Prince Andrew, who is currently seventh in line for the throne. Because she was born before 2011 (she's 67 years old), her brother goes ahead of her.
The Succession the Crown Act got rid of some other outdated traditions, too. In addition to allowing children to keep their place in the succession line regardless of gender, it also rolled back the disqualification for anyone who married a Roman Catholic and the requirement that anyone past the sixth person in line would have to ask the monarch to approve of whoever they wanted to marry.
But anyone speculating about when the newest royal baby would take over the throne is totally missing the point. First, there's nine glorious months of Kate's killer maternity fashion and taking bets on what they'll name the newest addition to the family. That's way more fun than succession lines.