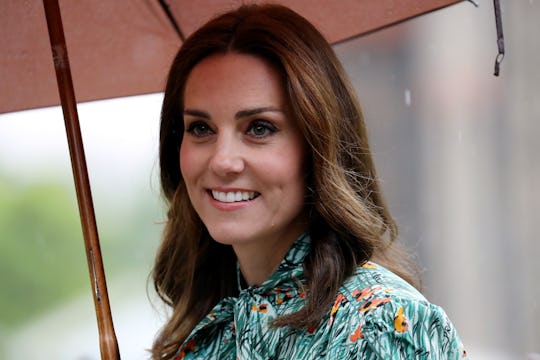 Chris Jackson/Getty Images Entertainment/Getty Images
When Is Kate Middleton Due With Her 3rd Child? Let's Calculate
It's been rumored for a while that the Duke and Duchess of Cambridge wanted another child, so it wasn't exactly a surprise when Kensington Palace revealed Monday morning that they are expecting. The big question on many people's minds now, of course, is when Kate Middleton is due with her third child. And it looks like the Royal Family have a lot to look forward to this coming spring.
As People noted, the palace made the announcement Monday via Twitter, first with the brief statement, "The Duke and Duchess of Cambridge are very pleased to announce that The Duchess of Cambridge is expecting their third child." A more comprehensive statement followed stating:
Their Royal Highness The Duke and Duchess of Cambridge are very pleased to announce that the Duchess of Cambridge is expecting their third child.
The Queen and members of both families are delighted with the news.
As with her previous two pregnancies, The Duchess is suffering from Hyperemesis Gravidarum. Her Royal Highness will no longer carry out her planned engagement at the Hornsey Road Children's Centre in London today. The Duchess is being cared for at Kensington Palace.
As noted in the statement, the Duchess again has Hyperemesis Gravidarum, the extreme morning sickness she was reportedly plagued with when she was pregnant with George, who is now 4, and Charlotte, age 2.
According to ABC News, the cause of the condition is unknown, but it usually occurs in the late first and early second trimester. It causes nausea, vomiting, and electrolyte imbalance, according to American Pregnancy. As Kensington Palace indicated, it's so incapacitating that Middleton has to cancel her engagements. She was hospitalized for it when she was pregnant with George, People reported.
That report is also indicative of where Middleton is in her pregnancy. When she was pregnant with Charlotte in 2014, the condition forced the palace to announce the pregnancy before the traditional 12 week mark, ABC News reported, again because Middleton needed to cancel down standing commitments to attend to her health.
If Middleton is between nine and 12 weeks pregnant now, her due date is between March 15 and April 1 of 2018. If she's a bit past 12 weeks, the due date is of course a little later. Either way, it looks like another spring baby for the Duke and Duchess. Princess Charlotte was born on May 2. Prince George was born later in the year, on July 22, but still, they've got this have-babies-when-it's-warm thing down.
As also noted in the statement, both Middleton's family and the royal family are "delighted," and why wouldn't they be? The royal family is known for sizeable broods (the Queen has four, after all), but still, pretty cool, especially for royal parents like these, who are said to be extremely involved. Let's just hope the Duchess starts feeling better soon. Hyperemesis is hard to weather once, but three times? This woman is a hero.