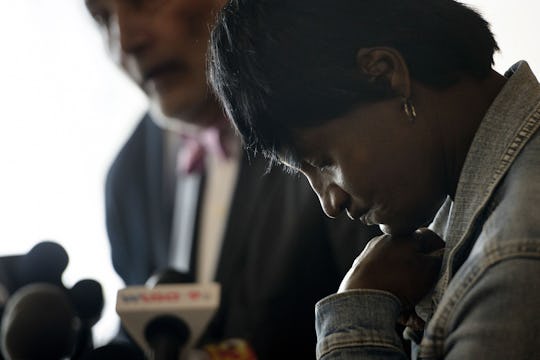 BRENDAN SMIALOWSKI/AFP/Getty Images
Could Lawyers In The Freddie Gray Case Appeal The Dropped Charges? The Future Is Unclear
On Wednesday, the Baltimore City State's Attorney's Office announced that it would not prosecute the three remaining officers in the death of Freddie Gray, effectively dropping all charges against them. Could lawyers in the Freddie Gray case appeal the dropped charges? Right now, it's uncertain what kind of recourse the family of Freddie Gray and their lawyers have. Charges were dropped against Officers Garrett Miller and William Porter as well as Sgt. Alicia White in the April 2015 death of 25-year-old Gray, who died while in Baltimore Police custody.
In December, Porter's trial had ended in a hung jury and was thus declared a mistrial. Three other police officers — Officers Edward Nero and Caesar Goodson and Lt. Brian Rice — were each acquitted in individual bench trials in the last three months. Baltimore State's Attorney Marilyn J. Mosby has come under fire for each trial where officers were not convicted for Gray's death, ruled a homicide by a medical examiner: Gray died a week after his arrest with injuries including three fractured vertebrae and an 80-percent severance of his spinal cord from his neck. And now, over a year since his death, Freddie Gray's family has found no justice with the latest news that the remaining officers' charges were dropped.
However, there could be some recourse for Gray's family's lawyers: The official motion for the dismissal of charges against the officers is called a "nolle prosequi" — it's a specific method of dismissing charges before a case has gone to trial. As Porter's trial had ended in a mistrial, he was eligible for a new trial; Miller and White had not yet gone to trial. If the charges were not dropped for very specific legal reasons, there is a chance that the State Attorney's office could recharge the officers at a later date — but that decision rests solely with the prosecutor's office and isn't up to Gray's family's lawyers.
In June, Porter and White sued Mosby for defamation and invasion of privacy, alleging that their prosecution has permanently damaged their reputations. Specifically, the suit alleges that Mosby charged White and Porter, "not for the purpose of prosecuting crimes that had allegedly been committed by White and Porter, but rather for purposes of quelling the riots in Baltimore."
Reactions to the Freddie Gray case charges being dropped — and Mosby's controversial and unexpected decision — have been swift and heated on both sides of the case. Twitter has become a battleground of #BlackLivesMatter versus #BlueLivesMatter in the wake of the news regarding the dropped charged in the Freddie Gray case.
At a press conference Wednesday morning in West Baltimore near a Freddie Gray mural, Mosby spoke passionately about her professional role as chief prosecutor in the Freddie Gray case, thanking her officer for its tireless work on the case despite threats of physical harassment and a court-mandated gag order preventing her office from speaking publicly about the case. Speaking to reporters about her office's responsibilities to the public, Mobsy said, "We're sworn to uphold the law, to apply justice fairly and equally to everyone — even those that take an oath to protect and serve our communities." She continued:
The decision to prosecute was not — and has never been — an indictment on the entire Baltimore Police department.
After much commentary on the state of police brutality in Baltimore and elsewhere in America, Mosby turned the focus of the press conference to address why she had to drop the charges in the Freddie Gray case: "As a mother, the decision not to proceed on these trials is agonizing," calling her office's chance of conviction in any of the remaining cases "dismal." As she wrapped her press conference, Mosby stated that she would remain committed to seeking justice for the people of Baltimore as long as she remained chief prosecutor.