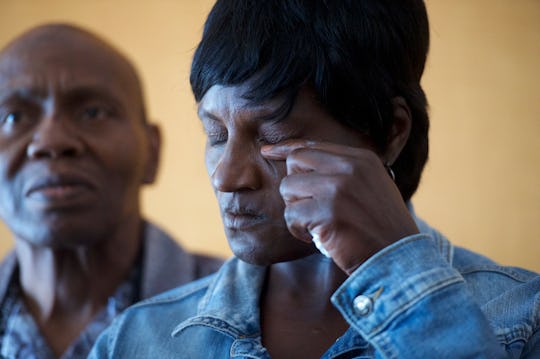 Mark Makela/Getty Images News/Getty Images
Reactions To The Freddie Gray Charges Being Dropped Are Understandably Emotional
It looks like the case of Freddie Gray has come to an end for three Baltimore police officers. On Wednesday morning, Prosecutors dropped the charges against the remaining officers being tried for their conduct in the arrest and death of Freddie Gray. Already the reactions to the Freddie Gray charges being dropped are starting to pour in on social media, and many people are not happy with the results.
Freddie Gray, a 25-year-old black man living in Baltimore, was illegally arrested in April 2015 after running away from a bike patrol officer, according to the Boston Globe. He was put in shackles and handcuffs in the back of a van without a seat belt by six police officers, according to prosecutors on the case. The prosecutors also told the court that Gray was not allowed medical attention despite asking for it; his neck was broken in the back of that van and he suffered from severe spinal chord injuries, according to the Globe. He died in the hospital one week after his arrest. While a total of six officers have been charged in the case, the office of Baltimore State Attorney Marilyn J. Mosby has yet to have any success in holding one of these officers accountable for Gray's death. While Mosby is expected to be holding a press conference to discuss the case on Wednesday, frustrated followers of the case began expressing their frustration about the apparent lack of accountability for the Baltimore police force on social media.
Gray's death was officially ruled a homicide on May 1, 2015 and all officers involved were charged. However in May, June, and July of 2015 respectively, three officers were acquitted in connection in the homicide of Freddie Gray; Edward Nero, the bike officer in the case, Caeser Goodson who was driving the van, and Lt. Brian Rice who was the highest-ranking officer involved in the case. Freddie Gray's death spurred a series of protests and riots that spiraled out of of control in the city of Baltimore, with at least 250 people arrested, hundreds of businesses damaged, and a state of emergency being declared.
The three officers who were facing trial on Wednesday, Garrett Miller, Alicia White, and William Porter, have had the charges dropped against them. Porter was facing a retrial after his initial trial was deadlocked by a jury in December. Baltimore Attorney Marilyn J. Mosby drew praise for her swift action when Gray died last year. A grand jury indicted all six of the officers with an array of charges, from second-degree murder to manslaughter by vehicle, misconduct in office, and assault.
And now it looks like no one will be held accountable. What will this mean for the people of Baltimore, for the Black Lives Matter movement, and (most importantly) to the family of Freddie Gray?