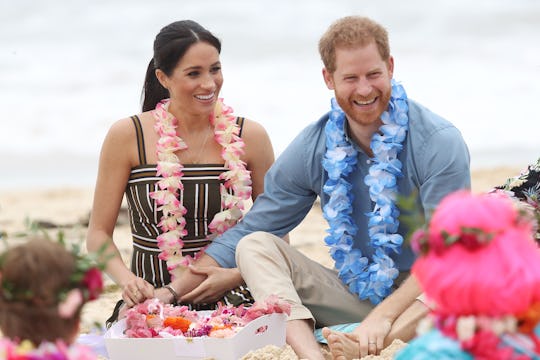 Chris Jackson/Getty Images Entertainment/Getty Images
Why Meghan Markle & Prince Harry's Royal Baby Probably Won't Ever Be King Or Queen
There are so many things to think about when having a baby — names, nursery colors, birth plans, parenting styles, but one thing us common folk don't have to consider (likely) is whether your little bundle of joy will become a world leader one day. That's the case for one set of parents now as people across the world are likely asking: Could Meghan Markle's baby become queen or king?
The royal baby, who Kensington palace announced on Twitter is due in the spring, will be in the line of succession for the throne, according to the Daily Mail. That being said, they will be seventh in line, according to the Associated Press, so it's very unlikely that they will actually ascend the throne. Ahead of the new addition will be Prince Charles, who will take the crown when Queen Elizabeth passes or abdicates, Prince William, Prince George, Princess Charlotte, Prince Louis, and Prince Harry, the Daily Mail reported.
The nice news is that even if the child is a girl she will remain in that seventh-place spot, according to The Week. Thanks to the Succession of the Crown Act of 2013, daughters are no longer usurped by their brothers in line for the throne. Prior to the act Princess Charlotte would have lost her spot when her brother Prince Louis was born. Now, as The Week reported, the new baby will keep their spot until Prince William's children grow up and begin having their own children. At that point, Prince George's children would move into the line of succession behind their father.
One humorous Twitter user noted (some time ago) that Prince Harry and Meghan Markle's child will have dual-citizenship, according to Town & Country, so he or she could try for the United States presidency and also be in line for the throne.
"Brits are playing long-ball here, but it's a smart move. They want America back and this is how they'll do it," the user tweeted back in November.
Markle and Prince Harry haven't spoken out on their plans for raising the child bi-nationally, and it wouldn't be the strangest thing if she renounced her U.S. citizenship to become a British citizen, as TIME noted. She does plan to file for U.K. citizenship, as required by their laws, according to TIME, and if she does not give up her American claim then she'll have to file IRS tax returns. Further complicating things is the matter of a form that she'd have to file, as someone with assets in excess of $300,000, that would reveal details of her wealth, including royal money, as TIME reported.
But regardless of their baby's U.S. status, he or she will still be a member of the royal family and people are wondering if the child will carry the title of prince or princess. Probably not, according to Good Housekeeping, and the reason why is quite complex. In 1917, King George created a Letters Patent order, which states that the "grandchildren of the sons of any such Sovereign in the direct male line (save only the eldest living son of the prince of Wales, shall have and enjoy in all occasions the style and title enjoyed by the children of Dukes of these Our Realms." In short, that means that the Duke and Duchess of Sussex's child, as a great-grandchild of the queen, would not be a prince or princess, according to Good Housekeeping. The queen can step in and bestow the title on the child, as she did for Prince William's children, according to Harper's Bazaar.
But all that is still months, and even years, away in the life of this little royal. For now, the world can just enjoy all the glowing photos of the happy couple as they savor this moment.