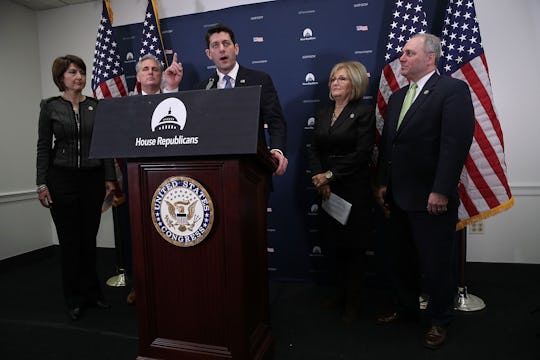 Alex Wong/Getty Images News/Getty Images
The ACA Repeal Is Life-Threatening For Some
President-elect Donald Trump has certainly made no secret of his desire to repeal the Affordable Care Act (aka, "Obamacare"), and on Thursday, the Senate moved one step closer to doing just that, after a budget resolution linked the the repeal of the Act passed 51-48, according to USA Today. Draft legislation to repeal Obamacare is expected by the end of the month, but Democrats — not to mention many Americans currently insured under the Affordable Care Act — are anticipating dire consequences. Could people die if Obamacare is repealed? It definitely sounds possible, unless Republicans are able to come through with a comprehensive replacement plan that would prevent Americans from losing the affordable insurance they so desperately need.
In a CNN town hall Thursday, House Speaker Paul Ryan spoke to Americans about Obamacare, and about the GOP's desire to replace it with something they think will be more effective. Although Republicans have yet to outline exactly how they intend to actually do that, Ryan told the crowd that they "want to replace it with something better," and suggested that would likely involve shunting those with pre-existing conditions into high-risk insurance pools. Ryan said that "state high-risk pools are a smarter way of guaranteeing coverage to people with pre-existing conditions," and claimed no one would be stuck without insurance under the new plan:
We obviously want to have a system where they can get affordable coverage without going bankrupt because they get sick. But we can do that without destroying the rest of the healthcare system for everybody else. That's the point I'm trying to make. What we should have done was fix what was broken in healthcare without breaking what was working in healthcare and that's unfortunately what Obamacare did.
That sounds like a great idea in theory, but many Americans who have already relied on Obamacare for insurance that was literally life-saving for them or their families aren't quite so sure. Arizona resident Jeff Jeans, who called out Ryan and the GOP during the CNN town hall for not having a replacement plan in place ahead of their plan to repeal, spoke about being a Republican and small business owner who was originally vehemently opposed to Obamacare, before being diagnosed with cancer himself and being given only weeks to live. Jeans told Ryan,
We offered [to pay the hospital] three times the cost of my treatment, which was rejected. They required an insurance card. Thanks to the Affordable Care Act, I'm standing here today alive ... I want to thank President Obama from the bottom of my heart because I would be dead if it weren't for him.
That's a sentiment that seems to be shared by many people across the country. While headlines about large premium increases, coupled with a dwindling number of insurance providers in some areas of the country, have allowed Republicans (and Trump in particular) to argue that Obamacare is a broken mess that needs to be immediately done away with, the reality for many Americans is that Obamacare gave them affordable insurance for the first time, and they are afraid to be without it.
Georgia mom Ekuwa Ansa told The Huffington Post that she finds the GOP's plan to repeal the ACA "terrifying," because her 13-year-old daughter has Stage III cancer, and, like Jeans, she relies on Obamacare to be able to pay for treatment:
[As] a single mom, I already work a ton of hours to make ends meet. Now I'll have to worry about how I'm going to care for her medically from a financial standpoint. How am I going to afford necessary medical care for her? It's scary. It's my baby. I'm her mom. I'm supposed to provide for her and protect her. But I can't give what I don't have.
Stories like Ansa and Jeans' aren't difficult to find. California resident David Zasloff told The Los Angeles Times that had it not been for Obamacare, recovering from a stroke in 2015 "would have cost everything I had, including my niece's college fund." And for Texas mom Julie Ross, Obamacare has meant that her 4-year-old daughter Niko, who has Down syndrome and a heart condition, is able to receive ongoing, life-saving medical care. As Ross told The Los Angeles Times,
I hear senators say, without health insurance you can just go to the ER and get care. For my daughter, that would be too late. She'll die without these protections.
As for Ryan's belief that high-risk pools are the best way to go? That could be true — unless, that is, you're actually the one who ends up in one. Alaska resident Colleen Mondor, who has asthma, and her 15-year-old son, who has Type 1 diabetes, are both individuals who were difficult to insure before the Affordable Care Act. Mondor told The Los Angeles Times that, before Obamacare, her family was part of a high-risk insurance pool, where each family member faced a whopping $10,000 deductible, and their options for medical providers was severely restricted. Under Obamacare, Mondor said her son has received top-notch medical care, but with the GOP set to repeal it without an appropriate alternative in place, she is worried about his future healthcare options. And if Ryan's plan sticks, she likely won't be happy — according to Mondor, "The high-risk pool is a party no one wants to attend."
What's surely not helping matters is the fact that the GOP also can't seem to agree on a timeline for the repeal. While Trump told The New York Times Tuesday that he anticipated the Affordable Care Act to be repealed in Congress "probably some time next week," with a replacement plan put in place "very quickly or simultaneously, very shortly thereafter," Ryan said Thursday that the process would — and should — take time, according to New York Magazine. Although Ryan told reporters that the GOP's goal was to "deliver relief as soon as possible," even calling the Obamacare repeal "a rescue mission," he also made it clear he didn't intend to rush:
This will be a thoughtful, step-by-step process. We're not going to swap one 2,700-page monstrosity for another. We're going to do this the right way, we're going to do this the way it was designed to do, through the congressional committee system.
Despite the criticism surrounding Obamacare, the Affordable Care Act has reduced the rate of uninsured Americans to record lows — fewer than 1 in 10 Americans in 2015, according to CNBC. Repealing it, according to Business Insider, could result in almost 30 million Americans ending up without healthcare coverage — the majority of whom would be members of working families. As for the demographic expected to be hit hardest by the repeal? Non-hispanic white adults without college degrees, according to a study by the Urban Institute. Or, in other words, the same demographic which election exit polls show tended to favor Trump by the widest margins, according to CBS News.