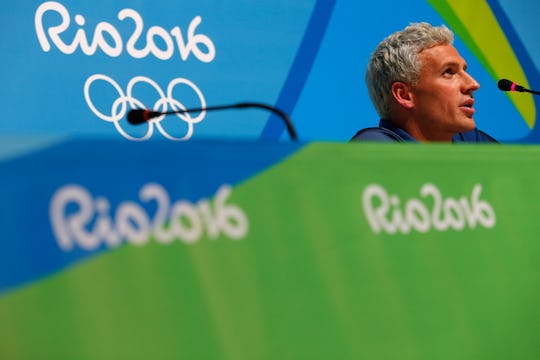 Matt Hazlett/Getty Images Sport/Getty Images
Could Ryan Lochte Be Extradited? Rio Police Have Charged Him With Filing A False Report
Ryan Lochte has been charged for filing a false police report of robbery in Rio, according to the Associated Press. Lochte is back in the United States after competing in the Olympics, where, following his performance in the water, he and three other swimmers from the U.S. team found themselves in hot water over an embellished robbery story. The police statement released on Thursday claimed that once Lochte was informed of the charge, the U.S. swimmer would be able to decide if he wants to present a defense in Brazil. But could Lochte be extradited? The answer to that question is probably not.
According the Brazilian law, filing a false police report is a punishable misdemeanor. Special Part Title 11, Chapter, Article 340 of Brazil's Penal Code states that a person could face up to six months in jail for reporting a crime that never took place. This is the law that Lochte and his fellow American swimmers violated during their time in Rio. In order to be indicted for his crimes in Rio, Lochte would have to extradited from the United States.
Extradition for misdemeanors is highly unlikely. Misdemeanor crimes are not recognzied under the extradition agreement between Brazil and the United States. More serious crimes, such as murder or rape, are felonies that could result in extradition. While Lochte most likely won't face the Brazilian justice system, there have still been repercussions for his actions in Brazil. ‌
Lochte has been dropped from all four his commercial sponsors after it was revealed he falsified his account of the gas station robbery in Rio. Speedo, Ralph Lauren, Airweave, and Gentle Hair Removal all announced they would no longer sponsor the Olympic swimmer. Olympic athletes do not make much money unless they are being sponsored by major brands, so this could potentially be a major set back for Lochte's income. It's unfortunate for Lochte, but it's probably a better alternative to jail.
It has not yet been announced whether the U.S. Olympic Committee (USOC) and the International Olympic Committee (IOC) plan to sanction Lochte for his actions in Rio. Even he ends up getting suspended, Lochte plans on continuing his Olympic swimming career through the games in Tokyo in 2020. He spoke to TMZ, revealing that he is "still going to be swimming" and that he will be "swimming for another four years." "However long my suspension is," Lochte said, "... I'm going to get back in that water."
Michael Phelps received a six month suspension after his DUI arrest and then went on to compete in the 2016 Olympic Games in Rio. Perhaps Lochte will be able to pull off a similar comeback in Tokyo.
Lochte's publicist did not immediately return a request for comment.