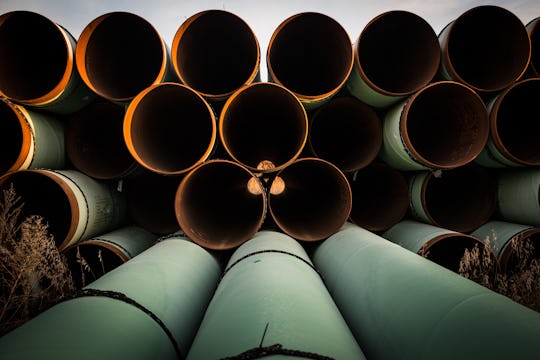 Andrew Burton/Getty Images News/Getty Images
The Keystone XL Pipeline's Threat To Clean Water
President Trump wasted no time this week making good on some of his campaign promises and on Tuesday, he signed an executive order to revive the abandoned Keystone XL pipeline. President Obama had blocked construction on the $6 billion project in 2015, in large part due to environmentalists fears that the Keystone XL pipeline could contaminate the water. In the event of a spill, scientists believe that the effects would cause a public health and environmental crisis that would cost way much more to clean up than any increase in jobs or decrease in gas prices, which are the main reasons Trump campaigned on bringing back the pipeline.
In accordance with the order, TransCanada Corp has 60 days to resubmit an application (and they plan on doing so) to carry on with construction of the pipeline, which will then be reviewed by the State Department. The State Department will be overseen by former Exxon Mobile CEO Rex Tillerson, who will likely be sympathetic to the oil company's interests.
The pipeline will eventually carry tar sands oil the 1,661 miles from Alberta, Canada to Texas, all the way to the Gulf of Mexico. It won't be carrying light, crude oil that floats to the top and can be skimmed with booms in the case of a spill (spoiler alert: spills happen all the time, so it's more of a question of when, not if, there's a spill).
Instead, it transports Bitumen, a tar like substance that sinks all the way to the bottom of water. When it spills, the water body would have to be drained completely, leaving more room for more water to seep into the contaminated area. It would be an environmental disaster, according to the Natural Resources Defense Council.
That organization issued a statement that said, "TransCanada has admitted that Keystone XL's real time leak detection system will not detect pinhole leaks and can't be relied upon to detect leaks smaller than about 700,000 gallons a day." The pipeline would likely contaminate some of the most vulnerable lands in America — the isolated Nebraska Sandhills and the Ogallala aquifer, which is a source of water for Native Americans and other residents. TransCanada plans on putting the pipeline at least four feet underground — which means it would be in water throughout much of its length.
Activists in Nebraska have already done the math, tallying up TransCanada's history of leaks and spills, and found that there would likely be an estimated 91 leaks over the 50 years the pipeline is expected to last, resulting in a projected 6.5 millions of gallons of tar sands oil leaking into the aquifer alone and contaminating the water and land.
Trump signed the order on Tuesday, just after a pipeline, of unknown ownership, according to Reuters, leaked 52,834 gallons of oil into aboriginal land in Saskatchewan. Seven months ago, a Husky Energy Inc. pipeline leaked 225,000 liters into a Saskatchewan river and cut off drinking water in two cities.
Pipelines like the Keystone Xl not only affect the environment, but also further marginalize native people who rely on the water that the pipelines potentially threaten. Mistakes happen, but given TransCanada and other companies' histories when it comes to oversight and leak prevention, mistakes aren't just guaranteed, their effects could be irreversible.