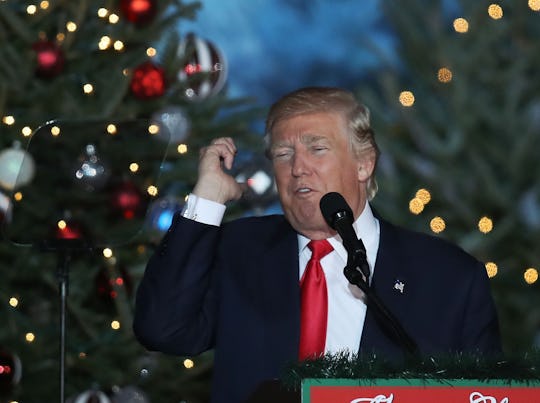 Joe Raedle/Getty Images News/Getty Images
What Could Happen If Trump Refuses To Divest
In late October, real estate mogul and then-presidential candidate Donald Trump opened the doors to Trump International Hotel in Washington D.C. Just two weeks later, he was elected the 45th President of the United States. NBD, right? Actually, no: Trump's many businesses and investments have become quite the BFD since the election, what with the whole potential for some serious conflicts of interest while he's president. While Trump has stated he will "hand over control" of his businesses to his two sons Donald Jr. and Eric, there's been no indication he intends to forgo his ownership stakes — which could spell trouble for the 70-year-old reality TV host-cum-president. Could Trump be impeached if he doesn't divest his businesses?
Besides it being a Christmas miracle, the truth is that there is Constitutional precedent — but we've never really had to navigate these murky waters before with a President-elect as business-saturated as Trump. First, there's the Emoluments Clause in the Constitution, which effectively prevents foreign powers from meddling with American governmental affairs — you can see how Trump's whole "Make America Russia Again" tone might be in conflict there. But there's also Section 208 on "Acts affecting a personal financial interest" — ethics laws that prohibit Trump, or any "executive branch employee" for that matter — from having financial conflicts of interest that make up his entirely professional portfolio. Trump's transition team has not responded to requests for comment regarding whether he will divest, and he recently canceled a press conference where he was supposed to discuss the matter.
With so much ethical and legal vagary around Trump's unusually high number of conflicts of interest once he takes office, five Democrats have decided to set the record straight on the matter. On Dec. 15, Massachusetts Sen. Elizabeth Warren said in a press release that she and four other Senate Dems — Maryland Sen. Ben Cardin, Delaware Sen. Chris Coons, Illinois Sen. Dick Durbin, and Oregon Sen. Jeff Merkley — plan to introduce a bill that would threaten impeachment in January if Trump and Vice President-elect Mike Pence don't "disclose and divest any potential financial conflicts of interest." In the press release, Durbin laid it out plainly for the incoming president:
President-elect Trump's financial entanglements are unprecedented in American history, and the American people are still waiting to hear what steps he will take before January 20th to guard against conflicts of interest and corruption in his Administration. Just this week, the President-elect cancelled a scheduled announcement about severing his business ties, taking time instead to meet with Kanye West.
This is exactly the kind of follow-up I would expect from someone like Warren, who had no qualms going head-to-head with Trump on Twitter throughout his campaign. Unfortunately, with a Republican-controlled Congress, Warren and her fellow Dems have quite the challenge to get a conflict of interest impeachment bill actually passed.
For now, we can only hope that Trump can take a break from hangin' out with Kanye or trying to find anyone to perform at his inauguration long enough to actually hold that press conference he's been promising about his conflicts of interest. I wouldn't hold my breath, though.