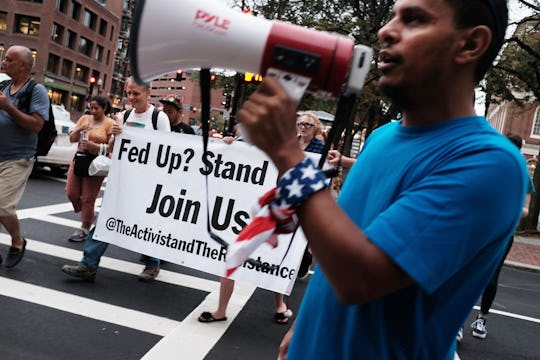 Spencer Platt/Getty Images News/Getty Images
Counter-Protesters At Boston Rally Show Up Early,…
In the wake of the violence in Charlottesville, Virginia last weekend, it seems there could be further rallies that could attract extremist groups. This time in Boston, for a purported "free speech" rally in Boston Common. As these groups prepared to gather, counter-protesters at the Boston rally showed up early to make a point. They're organized, they're prepared, and they have an agenda of their own to promote. Hate simply will not win.
The Boston Free Speech Coalition planned to hold its second free speech rally on Saturday, but wanted to make sure it was in no way affiliated with the Charlottesville "Unite the Right" rally which welcomed members of Neo-Nazis, the KKK, and other extreme white nationalist organizations and ended with the death of counter protester Heather Heyer. As per the Facebook page:
We are a coalition of libertarians, progressives, conservatives, and independents and we welcome all individuals and organizations from any political affiliations that are willing to peaceably engage in open dialogue about the threats to, and importance of, free speech and civil liberties. Join us at the Parkman Bandstand where we will be holding our event. We look forward to this tide-changing peaceful event that has the potential to be a shining example of how we, in the city of Boston, can come together for the common goal of preserving freedom of speech for all and respectfully discussing our differences of opinion without engaging in violence.
Despite the altruistic assertion that the rally was intended to be peaceful, the city of Boston has been bracing itself for potential violence. Boston Police Commissioner William Evans arranged for 500 officers to be on duty during the rally, as fear that the event would attract white nationalist groups regardless of intent escalated. Mayor Marty Walsh also noted in a press conference on Friday, according to Time:
Our job is to make sure that as the peace rally enters into Boston Common, that the folks that come in there feel safe, that we don't have an incident that happened like last week in Virginia. If you're looking to start trouble, regardless of who you are tomorrow, don't come to Boston. We don't want you here.
Mayor Walsh was also skeptical about the real intention behind the free speech rally:
This so-called free speech rally — some of the people speaking have said some very hurtful things about the Jewish community, about the African-American community, about a whole bunch of other communities. And I don't want them here. I absolutely would not have given them a permit if I didn't have to give them a permit. We don't need that type of rhetoric going on in Boston Common. We've come too far.
And so... counter-protesters showed up. By the hundreds, in an effort to stem potential racist rhetoric and hate.
The counter-protesters showed up early, hours before the rally's expected start time of noon. Very few people showed up for the rally, outnumbered and overwhelmed by the sheer force and enthusiasm of counter-protesters. Because regardless of how the "free speech" rally might have been packaged, there is a culture re-surfacing right now. A culture of hate, of division, of racism. And it can never, ever resurface again.