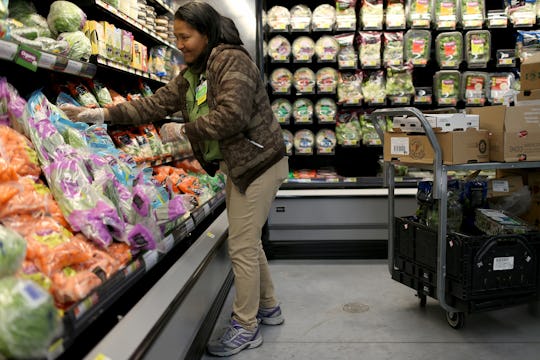 Joe Raedle/Getty Images News/Getty Images
Country Fresh Recalls 30,000 Fresh Vegetable Products, So Check Your Fridge
If you live in the south and buy pre-cut veggies from places like Walmart or Publix, you might want to poke around in your fridge. Country Fresh recalled 30,000 fresh vegetable products over the weekend due to concerns about a listeria contamination. The recall includes products that were sold in nine states, including Alabama, Florida, Georgia, Kentucky, Mississippi, North Carolina, South Carolina, and Tennessee. In addition to Walmart and Publix, other chains were also affected, including Harris Teeter, Winn Dixie, QuikTrip, Bi-Lo, Fresh Point, and The Spinx Company. The recalled veggies were sold with both the Country Fresh label and store brands.
The recall includes fresh cut mushrooms and onions, as well as things like pico de gallo and "fajita mix," but the list, according to the Food and Drug Administration is pretty long and varied. They are all in a clear plastic container and labeled or in a Stryofoam tray and wrapped in clear plastic. They also have "best if used by" dates between Aug. 7 and Aug. 19, so it's likely customers have already consumed them. No illnesses have been reported yet. It was just a "possible contamination." If you do have products included in the recall that you haven't tossed or frozen yet, you can bring them back to the store for a refund. Or just go full Ron Swanson from now on:
Max Payen, Country Fresh's Director of Food Safety said in a statement, "We are treating this incident very seriously because we want to ensure that our customers are provided with only the safest, most wholesome, and high-quality products available."
The company discovered the possible contamination in a routine, single sample done by the Georgia Department of Agriculture. The one sample tested positive for the bacteria, so now, together with the FDA, Country Fresh is conducting a further investigation to see where things went bad (that's a vegetable pun, by the way). Like other recalls earlier this year, it's possible that more products and brands could be affected by the listeria contamination in the coming weeks.
If you did have any of the recalled products and you're freaking out, it's worth cleaning out your fridge. According to the FDA, listeria can actually spread in the fridge, which makes it pretty unique from other bacteria that can't survive in cool temps. So wiping out your fridge now and again with a good disinfectant is not a bad idea. Listeria can make people sick enough to be hospitalized and some people are more vulnerable than others — anyone with a weakened immune system, pregnant women, elderly people, and chronic medical conditions.
When it comes to listeria concerns, it's usually better safe than sorry — so go ahead and check your freezer. You might be glad that you did.