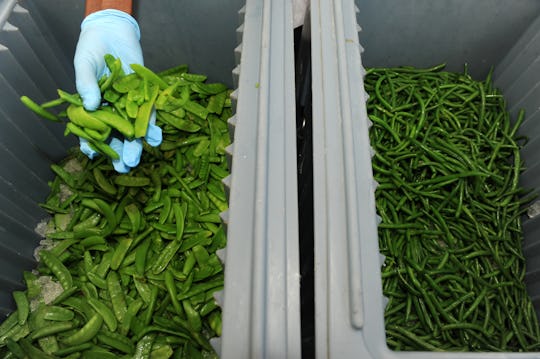 SIMON MAINA/AFP/Getty Images
What Brands Are Included In The Listeria Recall? The List Keeps Growing
CRF Frozen Foods' problems keep getting bigger as more brands have been included in the listeria recall. Last week, it was just a handful of brands of frozen peas and other veggies, but over the course of a few days, the recall grew to include some 42 brands of fruits and veggies. That brings total to around 380 products recalled in total.
The list includes organic and non-organic broccoli, butternut squash, carrots, cauliflower, corn, edamame, green beans, Italian beans, kale, leeks, lima beans, onions, peas, pepper strips, potatoes, potato medley, root medley, spinach, sweet potatoes, various vegetable medleys, blends, and stir fry packages, blueberries, cherries, cranberries, peaches, raspberries, and strawberries.
Although the FDA has a full list of the 42 brands and product UPC codes as you start to sift through your freezer, you might not immediately recognize all of the names unless you live in certain regions. Still, there are definitely some brand names that almost everyone will recognize immediately, including Bybee Foods, Trader Joe's, O Organic, Safeway Foods, Signature Kitchens, Wellsely farms, Simply Nature, and True Goodness. Because of the recall's extensive reach, it seems that if you buy any frozen veggies and fruits at all, it's worth going through your stash and tossing them out or returning them to store for a refund.
In addition to the CRF recall, Trader Joe's has pulled frozen fried rice dishes from its shelves due to a voluntary recall of Ajinomoto Windsor foods for a possible listeria contamination. Their foods contain frozen veggies from CRF brands, so the FDA allowed the company to voluntarily recall some products out of an abundance of caution. In addition to Trader Joe's, Molly's Kitchen, Archer Farms, and Hy Vee, among others, are some of the affected brands. So far, no illnesses have been reported as part of the Ajinomoto Windsor recall.
There have, however, been eight people hospitalized due to listeria and linked to those who ate CRF packaged products. According to the Centers for Disease Control, two of those hospitalized have died but not because of the listeria outbreak. Right now, the FDA and the CDC are conducting ongoing investigations into the outbreak. Luckily, the CRF plant in Pasco, Washington has been shut down since late April and will continue to be closed while the investigation continues, so you don't need to worry about continuing by possibly contaminated products. All the foods recalled have expiration dates between April 26, 2016 and April 26, 2018.
The outbreak seems to be under control, but if you buy frozen foods in general at all, you should probably follow @FDARecalls on Twitter for updates — just in case. Listeria can be dangerous. The initial symptoms are stiff muscles, headaches, and fevers. In pregnant women, the bacteria can cause miscarriages and other complications. The bacteria can be killed off while cooking the food over heat, but is that really worth it? That's totally up to you.
As the recall keeps getting larger, it might be best to lay off those frozen fruits in your morning smoothie for the time being. Better safe than sorry.