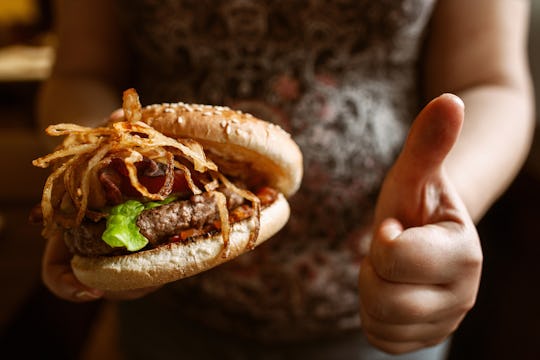 golubovy/Fotolia
19 Moms Share The Way They Cured Their Pregnancy Comfort Food Cravings
I was obnoxiously sick during the first trimester with, "lucky" for me, both of my pregnancies. For the first three months I lived on saltines, lemonade, and fresh bread. Once I was able to eat, however, all I wanted was savory and sweet comfort food. The thing about comfort food, though, is that everyone is comforted by different cuisine. So when I asked moms to share their pregnancy comfort food cravings, they all listed different foods, from cereal to salads, that provided them some reprieve from their unreasonable, seemingly un-ending pregnancy cravings.
Personally, I loved fried potatoes and hash browns. Oh, and mashed potatoes. Actually, a potato in any form would have sufficed. I also enjoyed bagels and warm Italian baguettes with salted butter. I guess you could say carbohydrates were my comfort food. In fact, my pregnancy cravings weren't all that different from the foods I crave when I'm not pregnant. I just love my carbs, you guys. And carbs love me, too. We have a real bond, you could say. Not the fake bond I created with healthy foods, like spinach and avocado, but a real unbreakable bond. A bond that lasts a lifetime.
Thankfully, my mom makes the greatest fried potatoes. She slices the potatoes into thin circles and then into half-moons. She heats up butter and oil in a non-stick pan, and the fries those bad boys with some more butter and salt. Does that not sound heavenly? I've tried to replicate her mind-blowing recipe and, sadly, I just can't seem to get it right. I'm sure there's an ingredient she isn't sharing with me, because her potatoes rock and my potatoes, well, don't. Honestly, the ability to eat whatever I wanted whenever I wanted (without worrying I wouldn't fit into my skinny jeans) was probably the best part of being pregnant. I had difficult pregnancies with both of my kids, so those baguettes and bagels really helped alleviate some of my misery.
If you, too, are pregnant and craving some comfort food, take a page out of these formerly pregnant women's books. Perhaps you'll find the food inspiration you've been looking for.