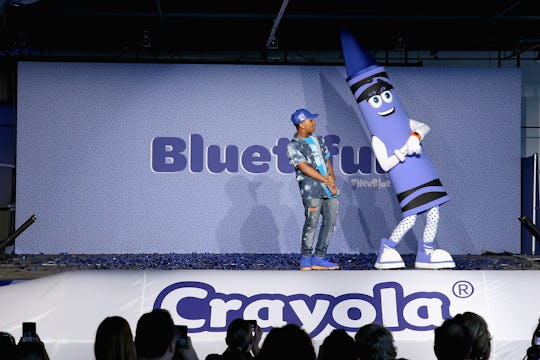 Bennett Raglin/Getty Images Entertainment/Getty Images
Crayola's "Bluetiful" Crayon Could Have Had A Very Different Name
Who knew so much shade could be thrown at a new shade of crayon? Yes, the internet has been abuzz over the last few days about a crayon, but more specifically the name of that crayon. As critics and fans debate whether or not they like the name of Crayola's new color, "Bluetiful," they might be surprised to discover the actual name of the crayon is not nearly so cheeky. In fact, it might even be considered downright perplexing.
Last Thursday Crayola, a company most of us probably weren't giving much thought to unless we got wrangled into coloring with a toddler, made international news with its new color, and more specifically, the oddly controversial name it was given. The company last made news in March when it announced it would be retiring it's yellow "Dandelion" crayon, which has sat nestled in the crayon box alongside it's pals for a full 27 years. The yellow crayon was retired with much pomp and circumstance; an animated "Dandelion" crayon called Dan-D was given a solemn send-off. He went on madcap adventures to give fans the sense that he would be enjoying a fruitful and fulfilling retirement, happy to leave room in the box for his new, hip, controversial replacement crayon, "Bluetiful."
Now that "Dandelion" is no more, make way for the new kid on the block.
The new hue was actually inspired by a color of blue accidentally discovered at Oregon State University in 2009 by scientists who were researching new materials for electronic applications. And the name they came up with for the newly discovered pigment?
Brace yourselves now... it was "YinMn Blue," or "Mas Blue." Why, you ask? According to Oregon State University, the explanation is simple:
The pigment contains the elements Yttrium, Indium, Manganese, and Oxygen.
"Mas Blue" because the lead scientist who made the discovery was Mas Subramian.
Not quite as catchy as "Bluetiful," but then again not quite as controversial either.
The name "Bluetiful" was chosen after Crayola (which is a division of Hallmark Cards Inc., and headquartered in Easton, Pennsylvania) launched a naming contest online in July to help officially anoint the new hue. The five choices were: Blue Moon Bliss, Dreams Come Blue, Reach for the Stars and Star Spangled Blue, and of course, the supreme winner Bluetiful. Crayola's 19th blue shade of crayon won 40 percent of the nearly 400,000 online votes to emerge victorious.
However, a lot of people had feelings about the fact that "Bluetiful" is not, as a point of fact, an actual word that exists in the English language.
Parents and caregivers are worried that the non-word will be misunderstood by small children, the people who are the primary users of crayons.
Still, the "Bluetiful" new crayons was not without its fans. Atlanta-based kindergarten teacher Catherine Baublitz told CNN that teaching "nonsense" words to small children was a great way to open up conversations about language.
In Kindergarten we teach nonsense words because they are important for learning to read. Nonsense words are parts of whole words. (They) help with learning syllables and help to build confidence in decoding.
And creativity is never a bad thing, right?
Perhaps the most important stamp of approval came from the color's originator. Mas Subramian, the chemist from Oregon State University who invented the color, told Art Net he was a fan of the chosen name:
I love the name and that was my first choice. Bluetiful is a fitting name for our amazing blue.
Sure, some people aren't fans of two words being mashed together to make up a new one. I shuddered at the word "jeggings" for months until I tried on a pair and realized they were actual jean/leggings and the best thing ever.
But let's get real here; kids are just going to want to color with the cool new crayon (due out by the holidays) no matter what you call it. And "Bluetiful" is miles better than "YinMn."
Watch Romper's new video series, Romper's Doula Diaries:
Check out the entire Romper's Doula Diaries series and other videos on Facebook and the Bustle app across Apple TV, Roku, and Amazon Fire TV.