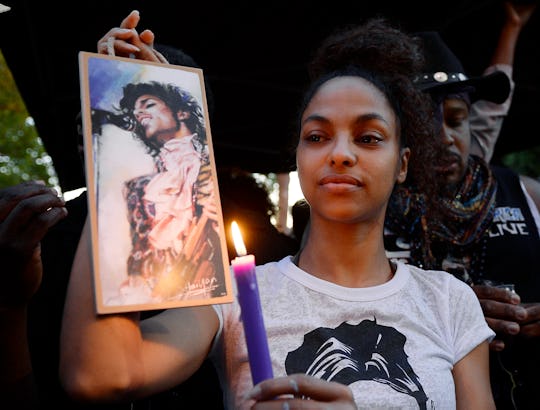 Kevork Djansezian/Getty Images Entertainment/Getty Images
Creative Prince Tributes Fans Paid Around The Country To Remember The Purple One
The world lost a pop icon on Thursday. Award-winning "Purple Rain" singer Prince Rogers Nelson was found unresponsive in his Minnesota home and pronounced dead at 10:07 a.m. The outcry from fans across the world has been similar to the reaction to David Bowie's death earlier this year, and rightly so: Prince meant so many things to so many people, and managed to represent amazing music, gender fluidity, religion, and eccentricity all at once. Since the news of his death broke, fans across the country have paid their respects with the most creative Prince tributes.
Prince had a style and charisma that defied the norm and inspired fans. He emerged from a small African-American community, far from music hubs, and made it big, all while spreading a message of love and remaining steadfastly himself. The world hadn't met a Prince before, and he was unmatched in terms of originality and musical range. He sang about sex. He wore bikini briefs onstage. Prince changed his name into an unpronounceable symbol. He did what he wanted to, and he encouraged others to do the same, saying in a 1996 NME interview:
Everyone has their own experience. That's why we are here, to go through our experience, to learn, to go down those paths and eventually you may have gone down so many paths and learned so much that you don't have to come back again.
It's only fair that after inspiring so many to go down their own paths, fans got creative in celebrating his. Here are a few of the best tributes seen so far:
Prince Street Gets An Upgrade
A Purple Nebula, For A Purple Prince
Broadway's The Color Purple Pays Tribute
Jennifer Hudson and the cast of The Color Purple, currently playing on Broadway, paid their respects to the musical legend on Thursday night. Despite being a last-minute addition with an impromptu feel to it, the cast's singing should give any fan shivers.
The Cast of Hamilton Had A Dance-Off
The New Yorker's Cover
Purple rain, tears, fitting tribute — The New Yorker's cover is everything it needs to be.
Creative Prince Cartoons
Anonymous cartoonist Chris penned this creative, touching tribute.
Shout Outs Around The World
Voodoo Doughnuts Channeled Prince In Their Bakery
Spike Lee's Prince Party
Spike Lee threw a block party to honor Prince, and fans belted out his songs in Brooklyn. I can't think of anything that would make Prince more proud.
Prince's creativity left a lasting mark on people around the world — so it only makes sense that he would be honored with a huge, varied dose of creativity after leaving us. After all, he impacted all kinds of people everywhere, so it's beautifully representative to see him in everything from buildings to doughnuts to train stations to space.