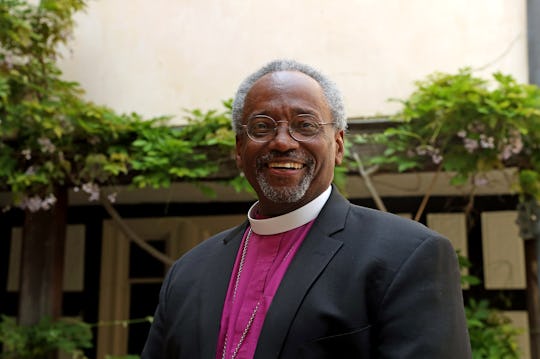 WPA Pool/Getty Images Entertainment/Getty Images
This Is How The Internet Reacted To Bishop Curry's Royal Wedding Sermon
There were a lot of stand out moments from the royal wedding, but some would argue that Reverend Bishop Michael Curry stole the show. His sermon, rich with religious allusion, perfectly brought together the union of Meghan Markle, Duchess of Sussex, and the Prince Harry, Duke of Sussex. Although he immediately began trending on Twitter during the ceremony in St George's Chapel, crowd reactions to Reverend Curry at the royal wedding were a little mixed. It seemed as if some people didn't know what to make of his sermon.
There is a reason why Reverend Curry immediately started trending on Twitter during the royal wedding. His sermon brought everyone in St. George's chapel to church — even though they were actually sitting in a church. Everyone knows that the royal family is rich with tradition and tend to play by the books. So when Curry came out preaching about marriage and talking about tweeting during the ceremony (this is a wedding that takes place in 2018, after all), people were definitely taken aback by how modern and fierce Reverend Curry was. Including the people attending the wedding.
Although the crowd reactions were a "blink and you miss it" moment shared during the broadcast (and varied depending on which broadcast you watched), you could tell that some people might not have been feeling Curry's preaching. Some Twitter users pointed out the fact that some of the attendees in the crowd seemed a little nervous during his preaching.
It's like some of the guests didn't know what to do with themselves.
If you saw anyone in the church looking uncomfortable during Curry's preaching, it could be because they were trying to hold back the urge to shout "Amen" and throw their hands up. At least, that is what some Twitter users thought they were trying to do. Whether or not they were unhappy or just holding back the urge to shout back at Curry is really anyone's guess.
Reverend Curry's preaching at the royal wedding was significant. Not only was he likely to be the first priest to ever deliver a sermon in St. George's Chapel by iPad, according to Town & Country, he was likely the only person to quote Martin Luther King Jr. in St. George's Chapel, according to the New York Times. But the fact that he did all of this represents so much. It shows the uniting of two countries and two cultures and serves as a reminder that Prince Harry and Markle are doing things their way.
It is 2018, and it is only right that the sermon reflected the times — even if the royal family is a little bit set in tradition. Of course, that would leave some people attending the royal wedding a bit surprised — but it could be that the people in the crowd were surprised in the best way possible. They weren't shocked because they didn't like what Curry was saying, they could have been shocked because he went as far to say those things.
As one user stated on Twitter, Reverend Curry was preaching at the royal wedding to the 600 guests in attendance, according to CNN, but he was also preaching for the millions of viewers watching at home. If people at the wedding weren't moved by what he was saying, it's their loss because his message definitely reached so many more people out there.
When the royal wedding replays throughout the day, be sure to watch for the reactions of the attendees (because there was so much that people likely missed) but also really pay attention to his message. It was so incredibly moving.