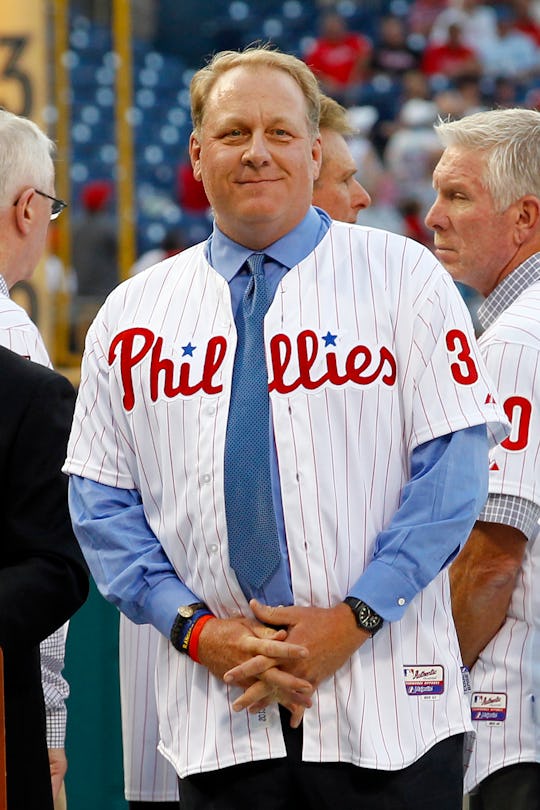 Hunter Martin/Getty Images Sport/Getty Images
Curt Schilling Says He'll Run For President In 2024, Because This Is America, People
Just in case you thought that the 2016 presidential election cycle was crazy, Curt Schilling is now saying he'll run for president in 2024, and quite frankly, at this point most voters should take his promise (or threat) entirely seriously. Just using the rise of Republican nominee Donald Trump as a template, a Schilling run could be entirely possible. Because this is America and everyone has presumably just thrown their hands up in the air when it comes to taking politics seriously, but that's just my humble opinion.
Much like Trump, Schilling would technically be an "outsider" and was most famous in the '90s as a Major League Baseball pitcher who led the Philadelphia Phillies to the World Series in 1993. He later won championships throughout the early and mid-aughts for the Arizona Diamondbacks and the Boston Red Sox, respectively, but then took up a career in television.
Also like Trump, Schilling is known for being outspoken. He has longstanding beefs with former players and ESPN (because they fired him for posting an anti-transgender meme in April), and more recently, a knack for politicking on social media. That's where this gets interesting. Schilling said that he wants to take his political career slow, but if "by some illegal event" Democratic nominee Hillary Clinton wins in November, he'd consider 2020.
Which means there is a real possibility that Kanye West, Texas Sen. Ted Cruz, and Schilling could face off in the next primary season, since they have all promised that they are seriously planning to run. Sure, that sounds like a South Park episode, but anyone who recalls doubting Trump last summer should stay woke.
At this point, who knows what America is capable of? Because Kanye West is "serious" too. He told Time after making an announcement at the 2015 MTV Video Awards that he was considering running himself. "I sit in clubs and I'm like, 'Wow, I've got five years before I go and run for office and I've got a lot of research to do, I've got a lot of growing up to do,'" he said. One might assume that West would run as a Democrat, but who knows what his stance is on fiscal policy?
Can you just imagine those 2020 debates? With all due respect to Trump, both West and Schilling are also hard to follow when it comes to their Twitter rants:
The popularity of Trump seems to have actually set the stage for someone like Schilling to think there's an actual chance at the Oval Office. I mean, on paper he sounds a lot like many of the 2016 Republican primary candidates: He's a Second Amendment crusader; socially conservative; wealthy; a white "celeb" who hates Democrats and President Obama; and he thinks Clinton "should buried under a jail somewhere." He checks a lot of the boxes Republicans seemed to love at the RNC this summer. In fact, Schilling and Kanye should team up. "America 2020: Why The Heck Not?" should be the slogan on the Yeezy-inspired swag that they can shoot from one of those stadium t-shirt cannons at rallies.
So on that note, I'm going to take this lunacy as a real possibility. It could be worse, maybe. What's so wrong about MLB has-beens, confusing Twitter threads, and a possible ban on exclamation points? A candidate I won't name just kicked a crying baby out of a campaign rally. There's nowhere to go but up from 2016 (insert surprised and nervous emoji face here).