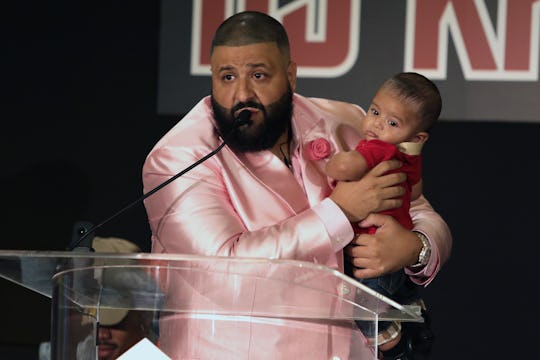 Jerritt Clark/Getty Images Entertainment/Getty Images
DJ Khaled's Son Asahd Will Renew Your Soul
You can say whatever you want about DJ Khaled; you don't like his style, aren't crazy about his music, whatever. But one thing you simply can't say? "Boy, that DJ Khaled doesn't love his kid very much, does he?" Because... come on. The father and son duo are basically the cutest thing I've seen since kitten videos became a thing. Which is why I figured I would make your day better with a compilation of the cutest photos of DJ Khaled's son Asahd. It's nice to get all of your joy put together for you in one place, yes?
As famous as DJ Khaled is for his Grammy-award nominated music and collaborations with big name celebrities like Jay Z, Future, and T.I., he's that much more famous for his Snapchat account. His 3-month-old son Asahd is featured heavily on Khaled's social media accounts (he even Snapchatted his son's birth, though he didn't show him on screen), and his pride in his little boy is utterly infectious. Even when he was suffering through the usual sleep deprivation that happens with babies, and little Asahd only wanted to sleep "on mommy or daddy's belly," Khaled had nothing but love in his heart for him. He told People:
He wants to sleep with us and I love it. But it's like, I'm not tired though — that's how powerful the love is. I don't have a tired bone in my body.
Check out the matching expressions on their faces... and tell me your heart's not melting. Go on, tell me!
Khaled and his son even work together; Asahd is listed as an executive producer on his dad's upcoming album, Grateful. So, yeah, forget about feeling guilty for spoiling your kid. DJ Khaled has you beat, every day of the week.
Khaled and little Asahd made a real entrance (along with Asahd's mom and Khaled's longtime girlfriend, Nicole Tuck) at the Grammys on Sunday, sporting matching tuxedos.
I would like to tell you this is Asahd's first tuxedo, but I would be lying. Asahd isn't one of those babies who is willing to be seen hanging out in a onesie and diaper, after all. He likes to keep things looking fierce. And now, enjoy a montage of Asahd's best fancy-pants moments.
Here he is on the cover of "Shining," featuring Jay Z and Beyoncé:
Hanging out with dad:
Greeting Ryan Seacrest like, whatever:
A little dressed down in designer jeans and oh-my-god-those-boots:
Editor's Note: The Instagram post has since been deleted.
OK, here he is in a onesie. But it's a fancy onesie so it doesn't count:
For me, it's Asahd's expressions that make the pictures. A measured stare into the camera, unflinching, sardonic, very above-it-all. He knows he runs the show with his dad, and is willing to shoulder the hefty responsibility of executive producing his father's album while rubbing elbows with superstars, but in this sort of world-weary way that just kills me.
No wonder Dj Khaled is a smitten kitten.