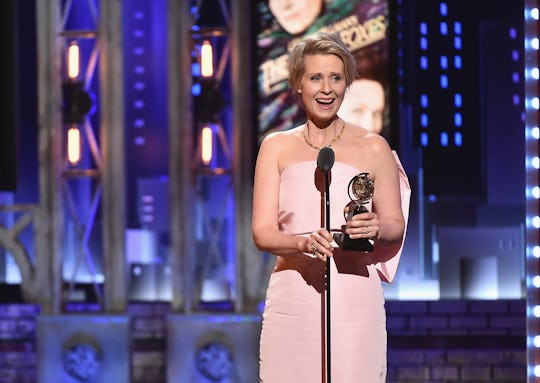 Theo Wargo/Getty Images Entertainment/Getty Images
Cynthia Nixon's Tony Speech Contained A Powerful Political Message
Cynthia Nixon took home her second Tony Award this year for her work on Lillian Hellman's The Little Foxes, and she seized the opportunity to use some of the playwright's most powerful words in a subtle political message against President Donald Trump. Cynthia Nixon's 2017 Tony Awards acceptance speech roused the audience as much as it roused Twitter. But then again, did we expect anything less from her?
The Little Foxes was written in 1939, but it's set even earlier, and it tells the story of two women who struggle to fit into the confines of small-town Alabama in 1900, when only men could legally inherit property and wealth. Nixon and Laura Linney alternate playing the show's two leading female roles, and Nixon, when accepting her award, made a point of underscoring the play's relevance to today's political climate. She stated:
It is a privilege to appear in Lillian Hellman's eerily prescient play at this specific moment in history. Eighty years ago, she wrote, 'There are people who eat the earth and eat all the people on it, and other people who just stand around and watch them do it.' My love, my gratitude, and my undying respect go out to all the people in 2017 who are refusing to just stand and watch them do it.
It was an understated message, but its shoutout to the resistance rang clear. And Twitter heard her.
As of about halfway through the Tony Awards, no one had mentioned Trump yet, which is something of an anomaly on the award show circuit this year. There have been strong condemnations of the presidential administration from Meryl Streep's Golden Globes speech to A Tribe Called Quest's Grammys performance referring to Trump as "President Agent Orange." It seems like the Tonys are holding themselves above the fray, with participants focusing their energy on the people responsible for making the art that gives us political messages, rather than making particularly political statements themselves.
But Nixon has a long history of political activism. She drummed up A-list support to elect the current mayor of New York Bill De Blasio. She campaigned for marriage equality with her spouse Christine Marinoni, and has protested cuts to Planned Parenthood in Washington, D.C. She also stumped for former President Barack Obama and has long been an advocate of public education. It's no surprise that Nixon was the first one to include a political message in her acceptance speech, no matter how subtle. And depending on how the rest of the night goes, she might run away with the strongest political speech of the night.