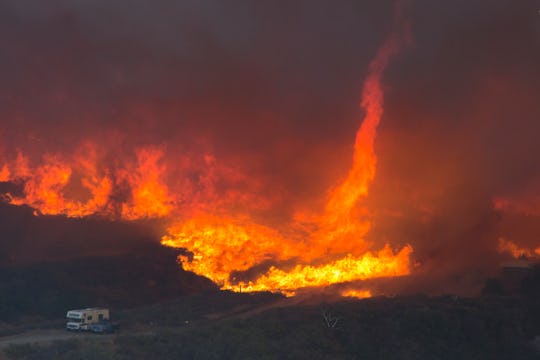 David McNew/Getty Images News/Getty Images
Brave Dad Calms 3-Year-Old Daughter While Driving Through California Wildfires
As you've probably heard by now, several wildfires in California are currently ravaging entire towns — and forcing hundreds of thousands residents to evacuate their homes. One of these blazes, dubbed the "Camp Fire," managed to destroy the entire city of Paradise in northern California. It's already made history as the most destructive fire in the state's history, and the blaze is showing no signs of slowly down anytime soon. And this dad driving through California wildfires singing to his terrified 3-year-old daughter will break you.
As NBC News reported, Joe Allen recorded his and his family's harrowing escape from the Camp Fire in Paradise on Thursday. Allen was driving with his 3-year-old daughter, Olivia — his wife, Whitney, was driving the family's second car with their other daughter — while trying to keep his little girl calm as the fire raged around them. "There's so much fire here. We're gonna get on fire," Olivia tells her dad in the video. Somehow, Allen is able to remain calm as he navigates the smoky, crowded highway, while at the same time reassuring Olivia that they weren't going to catch on fire. At one point, the level-headed dad even started singing, "Baby, it will be all right," The Sun reported.
As Olivia repeatedly suggests they should just go back home, Allen tells his little girl they will come back home when "it's more Princess Poppy." (Which, kudos to him for making a solid Trolls reference during such an intense situation.) When father and daughter finally make it past the large flames, Olivia exclaims, "You did it! You did it!," to which Allen replies, "We did it together." Check out the nail-biting video for yourself, below. (For the record, Joe Allen and his family made it safely to Chico, according to NBC News.)
Let's just say this terrifying — and yet still touching — video gave Twitter all the feels. One Twitter user wrote, "He does this all while keeping an eye on and guiding his wife in another car with another kid. Absolutely amazing."
Another person commented, "I can't imagine the courage and stamina as a parent to calm your child in the midst of terror and danger bless you."
Yet another Twitter user wrote, "I have the chills! That's so frightening seeing it through the father's eyes/phone, as if we were there! He was so calm and loving for his daughter while literally driving through the fires! My heart goes out to him, his daughter and everyone there! Be safe!"
As USA Today reported, more than 6,700 structures have gone up in flames in the northern California Camp Fire on Thursday and Friday. And this number will probably continue to rise, as the fire was only 20-percent contained as of early Saturday morning, according to KQED. "A whole town was wiped out in 24 hours," Rocklin Police officer Jon Gee said of Paradise, USA Today reported. "It's crazy." Meanwhile, the Hill Fire in Thousand Oaks and the Woolsey Fire in Malibu continue to displace residents in southern California.
I can't even begin to imagine what these families must be going through. Having to evacuate your home with whatever you can shove quickly into your car has to be traumatizing enough — let alone navigating a smoky highway with terrified children. Joe Allen's ability to keep his cool — while calming his daughter — under immense pressure is seriously impressive. (As much as I'd like to think I would handle the situation similarly, I probably would have been flipping out.)
Honestly, this video is also a testament to parenthood. Reassuring your children that everything's going to be okay, even though the world around you has burst into flames is part of the package. Granted, in most cases, these aren't literal flames. Still, it's difficult to argue this brave father didn't handle a high-stakes situation beautifully. My thoughts are with them — and the hundreds of thousands of other displaced families in California — as efforts to contain the fires continue.