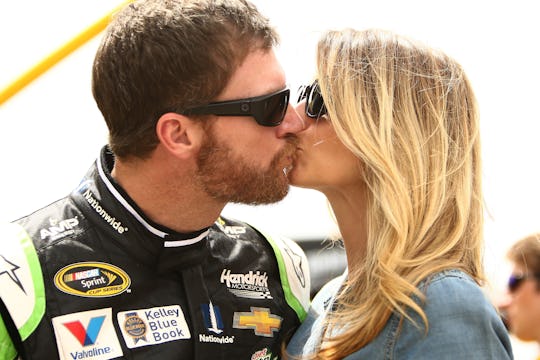 Rey Del Rio/Getty Images Sport/Getty Images
Dale Earnhardt Jr. & Wife Amy Welcome Their First Child — A Baby Girl — & Her Name Is Perfect
There's a new legend in the world of NASCAR and it's not Ricky Bobby. On Tuesday, May 1, Dale Earnhardt Jr. announced that he and his wife Amy welcomed their first child — a baby girl — this week and her name is totally adorable. According to tweets shared by the new parents, the little girl is named Isla Rose Earnhardt and it's clear she's already completely stolen their hearts, and the rest of the world's, if I'm being honest.
Yes, as USA Today put it, the Earnhardts' new baby is reportedly "the most anticipated baby in NASCAR," and she's officially here. The new parents are obviously very excited, with both mom and dad taking to Twitter to celebrate the good news. "She's finally here! @DaleJr and I are officially parents to a beautiful baby girl, Isla Rose Earnhardt. It feels like a dream. The best dream ever," the new mom wrote on Tuesday.
Dale seconded his elation, quote-tweeting his wife and adding a sweet remark of his own. "Everyone was right. It's a new beginning. Now everything I do will be for her and Amy. So blessed," he shared with his followers.
The new parents have yet to share a photo of their baby girl, which is totally understandable. According to NASCAR, Isla Rose was born on Monday, April 30, so the new parents are likely still enjoying those special first moments with their newborn daughter.
Looking back, though, it's clear that the Earnhardts are totally excited about becoming parents. When the famed race car driver first announced the news that he and his wife were expecting their first child, he took to Instagram to let his fans know, and his elation was almost palpable:
Excited to share the wonderful news that @mrsamyearnhardt and I are expecting our first child. A little girl!!!! We are both thrilled and can't wait to meet her.
His announcement also featured an adorable pair of pink converse, which will hopefully be on little Isla's feet before too long.
The happy couple got married back in 2016, on New Year's Eve, according to People, and it was apparently a long time coming. As People reported, the pair have been together since 2009, and many of Earnhardt's racing friends "had been goading him to get down on one knee for years," the magazine reported. And now, they've been married for over a year and are now officially parents.
Fortunately for the 43-year-old and his 36-year-old wife, even though they're first-time parents, they're surrounded by plenty of friends and family who can help guide them along the way. According to USA Today, several NASCAR drivers and friends of the happy couple have sent the new parents well wishes and some advice. In particular, fellow racer Elliot Sadler offered some especially sage advice:
Having kids is just like living in a frat house. Everybody's gonna be up all night long. There's no sleeping. There's gonna be a lot of stuff that's gonna get broke, and there's going to be throwing up everywhere.
Ya know, he's not wrong.
The Earnhardts didn't post a lot of pregnancy updates, but the new mom did take to Instagram a couple of times to show off her bump and update fans about how far along she was. On Dec. 20, Earnhardt posted a photo of herself with her hand on her stomach and explained that she was officially halfway through her pregnancy at that point. "The bump is definitely growing! I'm officially half way through the pregnancy & feeling great," she wrote. The expectant mom at the time continued her post and threw in a joke as well:
Little Miss is kicking up a storm lately. Dale has finally been able to feel AND SEE her kick around. We still don't have a name picked...hope I can make a decision soon. For the record (and it was close) Dalina, Daletona & Daleyn are off the table.
Obviously, the name they ended up choosing is so perfect and it's clear that little Isla Rose is going to grow up with some pretty amazing, loving parents.
Check out Romper's new video series, Bearing The Motherload, where disagreeing parents from different sides of an issue sit down with a mediator and talk about how to support (and not judge) each other's parenting perspectives. New episodes air Mondays on Facebook.