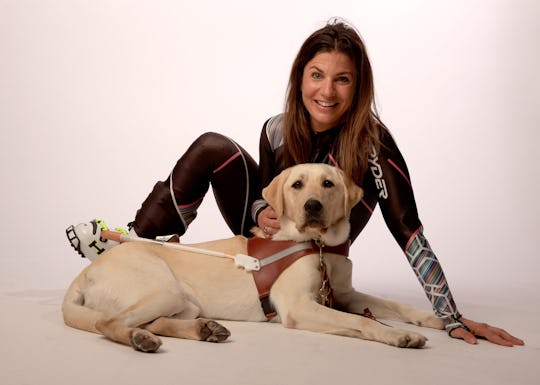 Doug Pensinger/Getty Images Sport/Getty Images
You Might Be Seeing Danelle Umstead's Guide Dog On The 'DWTS' Dance Floor
Danelle Umstead is clearly not a woman who shies away from a challenge. First of all, she's a competitive downhill ski racing champion who happily goes careening down mountains at speeds of 70 miles per hour. And she does it without the benefit of vision. She and her husband Rob have won three Paralympic Bronze medals, four World Championship medals, and over 50 Alpine Skiing World Cup medals over the past eight years. As if that weren't enough, Danelle Umstead is the first vision impaired contestant to compete on Dancing With The Stars. How does Danelle do it all, you ask (because I know I did)? She's determined, she's ambitious... and she's not above asking for a little guidance every now and again.
So here is what is so amazing about Umstead's inclusion on Dancing With The Stars: the paralympic athlete has never actually seen dancing. She lost her central and peripheral vision to early onset macular degeneration when she was young. Umstead is also learning to dance with partner Artem Chigvintsev while dealing with a 2010 multiple sclerosis diagnosis. And yet, as she explained in a recent interview with Romper, the producers of DWTS approached her to invite her to compete.
When she initially got the call, Umstead tells Romper she was "shocked:"
I was unbelievably shocked. In 2007, when I was holding my newborn son and watching the four inches from the TV, I yelled, 'I want to be the first blind person on DWTS. Life did a full circle, and 11 years later here I am. Dreams really do come true.
Now that Umstead has gotten through her first week, stunning the judges with an emotional fox trot to Andra Day's "Rise Up," she is coming to terms with the challenges even as she harnesses her athletic ability:
I think that being an athlete makes me very accustomed to taking feedback from a coach and making adjustments, so that skill will be put to very good use.
Umstead also noted that, while she's the first visually impaired contestant and that has its own set of challenges, there's one clear benefit to not seeing: she doesn't have to worry about getting stressed out by the cameras.
I don't have to worry about seeing the cameras in my face all the time, I can block that part out a bit.
As for her dancing partner Artem Chigvintsev, he is busy discovering a new way to teach, according to Umstead:
Everything is being taught by Artem through feelings and words. It's a completely new experience.
She says that Artem was a little "unsure" how to handle her at first, but that he has been "amazing, patient, and kind."
Everyone else he has danced with on the show has been able to look in the mirror during practice and make adjustments. I can't do that. But I honestly know from the bottom of my heart that we were meant to dance together. He continues to "Rise Up" to the challenge.
Artem was even willing to come up with a way to incorporate Umstead's guide dog Aziza into the dance routine. Which is important for Umstead, who has partnered with Natural Balance, as she told Romper that Aziza is:
Truly my eyes. She helps me so much and gives me the confidence I need in order to get through my days. I would be lost without her.
I genuinely can't wait to see Artem and Danelle's next routine, especially if it includes Aziza. And as the weeks go on, I think fans are going to be rooting for Danelle for more than just her dancing acumen; they will be inspired by her, just as I have been. And that's what Danelle hopes will happen with her DWTS appearance:
My motto is "Living My Impossible Every Day." And if I inspire someone just a little to live their own Impossible... this would mean so much more to me.
I have a good feeling she just might inspire quite a few Impossibles.