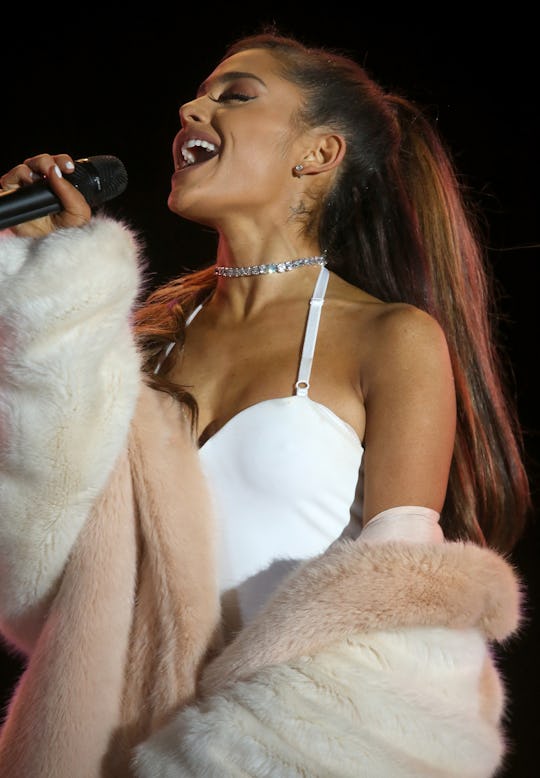 Frederick M. Brown/Getty Images Entertainment/Getty Images
'Dangerous Woman' Track List Shows Ariana Grande Has Grown As An Artist
The opening lines of Ariana Grande's "Dangerous Woman" say it all. "Don't need permission/Made my decision to test my limits'/Cause it's my business, God as my witness," the pop diva sings in what Billboard has called her "devastatingly strong voice." At just 22 years old, the onetime Nickelodeon starlet has ascended to the status of pop music royalty, and she's about to release her third studio album, also called Dangerous Woman. In the title track, the high-ponytailed diva asserts her independence, sexuality, and edge, showing the world that there's more to her than constant smiles and glitter. Although Grande has been releasing singles from Dangerous Woman for months now, the full album is out tomorrow, May 20. She has also shared the track list in advance, and it really shows just how much Ariana Grande has grown as an artist.
Grande emerged as a pop music sensation with her debut single, "The Way", a collaboration with rapper Mac Miller, in March 2013. It's a decidedly dance-y, lighthearted tune that showcases a musical talent Billboard hailed as "too magnetic to be contained to one radio hit." More than a year later, through Grande's "Problem" featuring Iggy Azalea, she reiterated her don't-take-crap-from-anyone stance, repeating the line "One less problem without ya!"
Grande has always exhibited a fearlessness in her music, both through her lyrics that boast the artist's invigorating self-sufficiency and her "Mariah-esque vocals." The much-hyped Dangerous Woman follows her first two albums, Yours Truly and My Everything, released in September 2013 and August 2014, respectively.
According to USA Today's Maeve McDermott, Dangerous Woman is a "mature portrait of an artist blessed with one of pop's strongest voices," even while the singles the public has already heard ("Dangerous Woman," "Be Alright," "Let Me Love You," and, "Into You") retain Grande's trademark spunk.
A Los Angeles Times headline proclaims "Ariana Grande leaves the princess image behind with 'Dangerous Woman.'" "I've been doing stupid things, wilder than I've ever been," she sings in "Bad Decisions." She also addresses her sugary reputation and shows how she's growing up too. "Ain't you ever seen a princess be a bad bitch?" she asks. In "Side By Side," Grande sings alongside Nicki Minaj about "making deals with the devil" that she knows are "gonna get me in trouble."
"Into You" — which Grande released before the entire album — is all about infatuation and secret affairs, back up by a heavy beat, signaling that she is ready to take risks and follow her desires.
In addition to Minaj, Lil Wayne, Future, and Macy Gray are featured in tracks on the album as collaborators. It's an accomplished, talented bunch — all older and more experienced in the industry than Grande is. But in Dangerous Woman, she shows that she has boldly cultivated a persona and her own, unique space in the world of superstardom.
Ariana Grande is no longer a pop princess. She's now a queen.