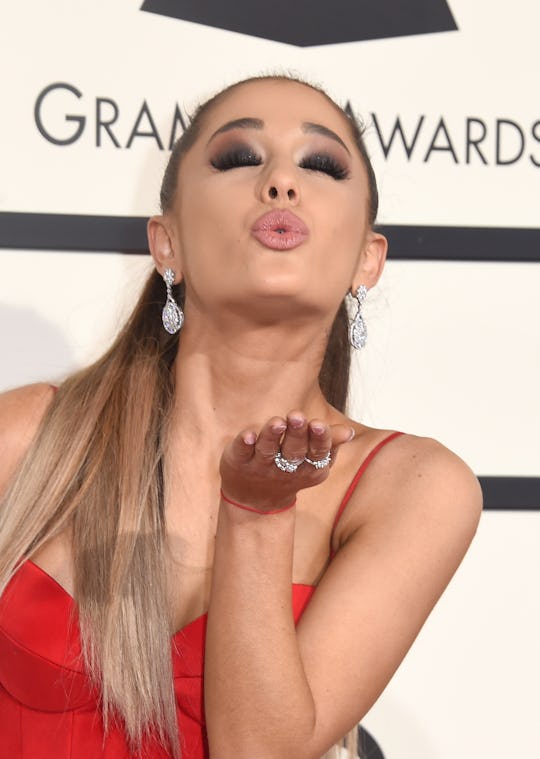 Jason Merritt/Getty Images Entertainment/Getty Images
How To Buy Ariana Grande's 'Dangerous Woman' When It Debuts On May 20
Ariana Grande, the 22-year-old high-ponytailed tiny diva who is, in my opinion, the quintessential pop star, has been hyping up her fanbase for her third album, Dangerous Woman, since last summer. That's when she used Twitter to tell a fan it would be called Moonlight. Since then, the album title has changed, and in October she released the first single, "Focus," complete with a music video, although it has since been cut from the track list. Still, she's revved up anticipation with four additional singles since then, including "Dangerous Woman," "Be Alright," "Let Me Love You," and, on May 6, "Into You." It's all quite tantalizing, if you're a Grande fan, and it has many thinking about how to buy Dangerous Woman when it debuts on May 20.
Grande's latest certainly won't be as elusive as Beyoncé's Lemonade was when it first dropped. According to Grande's official website, the album is already available for pre-order. The four new songs she's already shared with the Grandeverse (I made that up, Ariana, so you can contact me for the copyright) are up for download for $1.29 each on iTunes, where all 15 tracks are named and can be purchased as a whole for $12.99 on May 20.
Each of the four tracks Grande has already debuted currently live on Spotify, and Amazon has a preorder option for both a Dangerous Woman audio CD and a deluxe edition that includes a DVD as well. There's even a Japanese version!
So everyone who's planning on going all-in for Dangerous Woman — with their time, money, or both — has a pretty good idea of what they're going to be getting. Because here's the kicker: In mid-April, when she showed off the track list for the first time via Instagram, Grande also unveiled an impressive group of talented and dynamic collaborators: Lil Wayne, Nicki Minaj, Macy Gray, and Future.
During a February 29 live chat Q&A session with Billboard, the singer talked about the essence of a "dangerous woman," for her:
I feel like my personal growth is reflected in the sound. I'm really proud of it... To me a dangerous woman is someone who's not afraid to take a stand, be herself and to be honest.
With all the information Grande has revealed about the album, "honest" is certainly not an overstatement. And all that tireless promotion seems to be paying off, as "Dangerous Woman" hit No. 1 on the Billboard + Twitter Top Tracks chart on April 9. Even the hashtag #9DaysTilDangerousWoman is blowing up on Twitter, as the wait sinks down into the single digits. And look! Just in today: a preview of track 10, "Sometimes."
Geesh. Are we sure this album isn't already out yet?