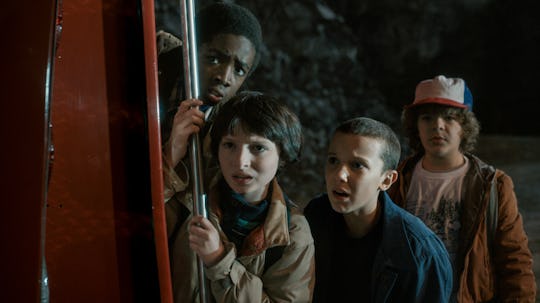 Netflix
Daniel Radcliffe Loves 'Stranger Things', & These 9 Other Celebs Prove He's Not Alone
There's no denying that Stranger Things was the surprise hit of the summer. After virtually no marketing or hype, the show premiered to very little fanfare – and then blew everyone away. Week by week, news slowly trickled out that Stranger Things was the bomb dot com and viewership skyrocketed. But among the series' super vocal fan-base was an ever-growing group of celebs who are obsessed with Stranger Things just as much as we all are.
Ever since the show's first season dropped onto Netflix on July 15, critics and casual viewers alike have been abuzz with acclaim for just about every aspect of the show. Its use of homage to '80s classics, nostalgic tone, and the performances of the immensely talented cast of child actors were all particularly noteworthy.
According to Variety, the show quickly became one of Netflix's most watched original series ever, with the show averaging 14.07 million adults between the ages of 18-49 within the first 35 days after the show debuted. If it feels like every single person you know has been talking about Stranger Things for the past two months, that's because they totally have been.
Probably one of the best praises any writer, director, or actor can get is that someone else in Hollywood absolutely adores your work. The Duffer brothers, who created the show, and the child actors at the heart of it have been getting a lot of that praise lately from their colleagues in the entertainment industry. Everyone from Harry Potter to Arya Stark has been geeking out over Stranger Things. Here are a few of the celebs most obsessed with the supernatural drama.
1. Daniel Radcliffe
Radcliffe appeared on the BBC Radio 1 Breakfast Show on Wednesday and told the host that he watched the entire season while on vacation in Greece. Yup, that's right – the boy wizard himself took time out of traipsing around on Mediterranean islands to binge this show. He also sang the praises of the uber-talented kid actors and joked about them being much better actors than he was at that age.
2. Aaron Paul
The Breaking Bad star professed how obsessed he is with the show and the kid actors – and particularly Millie Bobby Brown, aka Eleven, who Paul and his wife Lauren "fake adopted" – while on The Tonight Show. He even jokingly begged Jimmy Fallon to let him come back when the kids were guest starring.
3. Ben Schwartz
I mean, of course Jean-Ralphio is a fan. His son Jerky Boyfriend Steve is a major character on the show.
4. Sophie Turner & Maisie Williams
On the Emmys red carpet, Turner confessed that she and her Game of Thrones co-star/forever BFF love to just hang out and watch the spooky series. She also geeked out a little bit over the prospect of spotting her fave Millie Bobby Brown at the awards show. Same, girl. Same.
5. Stephen King
The "King" of horror is a prolific live tweeter when he's watching something that he likes (he's previously live-tweeted his The 100 bingewatch) and he went all in on praising Stranger Things for its effective use of homage to his own works.
6. Guillermo Del Toro
Yet another horror icon, writer/director del Toro, tweeted about how much he loved the show, above and beyond its cultural references to other '80s and horror works like his own.
7. All 3 Mowry Siblings
Baby Daddy star Tahj Mowry got his Sister, Sister sisters hooked on the series, and they're already counting down to Season 2. Can't say we blame them.
8. Zac Efron
Apparently the High School Musical star's version of "Netflix and Chill" is "Workout and Stranger Things." Efron shared a picture of himself on an exercise bike while intensely watching the show.
9. Hillary Duff
The Younger actress forewent sleep in favor of binge-watching Stranger Things, calling it "addicting." Celebs – they're just like us!
10. Wiz Khalifa
While many of the show's most outspoken super-fans are actors and creators involved in the film and/or TV industries, the show has a fanbase in the music scene as well. Wiz Khalifa sampled the show's ridiculously catchy '80's-style electronic theme music in his new song "Stranger Things (ft. J.R. Donato)."