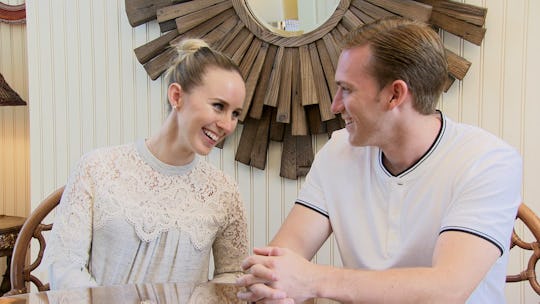 Lifetime
Do Danielle & Bobby From 'Married At First Sight' Have The Perfect Marriage?
All married couples argue, right? Well, one couple from Lifetime's reality series, Married at First Sight begs to differ. Fresh off of Season 7 of the show, starting on the spinoff Happily Ever After?, and expecting a little one, Danielle and Bobby say they still don't fight and really haven't had any major arguments in an email interview with Romper. Either they are the most well-matched couple in the world (in which case I would like a word or two with these experts who set them up) or they are the most easy-going people to ever exist.
As is the premise of the show, Danielle and Bobby first met on their wedding day in Season 7 of Married at First Sight. They were notable because, unlike almost all the other couples on the show/Earth, they never seemed to fight or get into any major disagreements. Sure, Danielle did struggle somewhat with expressing her feelings, but by the end of the eight-week experiment she admitted that she just couldn't imagine her life without Bobby anymore. Now, less than a year after meeting at the altar, the couple is still happily married and expecting a baby, no less. When they say "life comes at you fast," I don't think anybody expects this kind of fast.
And still, when asked what the most difficult part of their marriage has been, Danielle says, "We don't necessarily think we have anything for this category yet. Bobby and I work hard daily to keep our marriage balanced and fun. We have found what works for us and we've stuck with it! We will never say our marriage is perfect but we feel very lucky to be in the space that we are in." Perhaps the secret to their happiness is how much they committed and trusted the process. At least, that's how they describe it.
"We both committed to each other very early on, and decided that making our marriage a long lasting and happy one would be the only option," they say. On the subject of arranged marriages they agree that "if two people want to make something work they will. Arranged or not." They also say that they wouldn't have signed up at all or put their fate in the hands of the experts had they questioned the process. Say what you will about these two's unconventional marriage, but something is clearly working well for them. I want to be skeptical, but all I'm feeling is awwwww.
But all of this is not to say that Bobby and Danielle themselves weren't scared at first — and then surprised at how well everything went. In fact, they say that how easy it has all been is the most surprising element of their marriage, while walking down the aisle was the scariest. No kidding! "Marrying a stranger is unconventional, crazy and not guaranteed to work! While we both fully trusted the experts, there's so much more at play when it comes to attraction and chemistry ... but the unknown is always a scary feeling," they say.